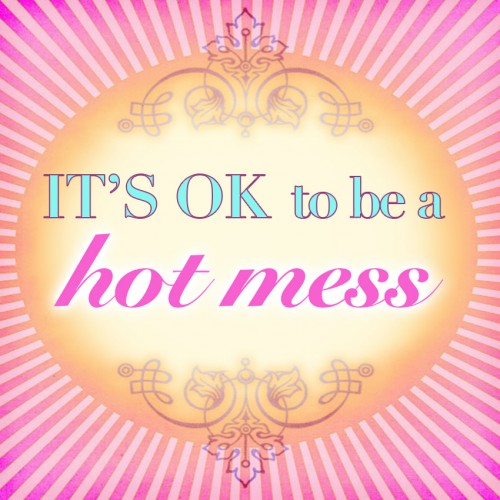 That can also be the flip side of blogging. The second you blog about looking on the bright side or feeling like you've handled something is the very second the universe (or the booger faces in your life) will throw something at you with the force of an angry monkey at the zoo. I spent hours trying to write a blog about raising self-esteem and then it hit me. It's ok to be a hot mess.
I met with an adorbs friend yesterday and we caught up and laughed and were silly little girls.
We talked about things we'd overcome, dreams we had, how the dreams changed. And she gave me an awesome nugget of insight. You can be "not ok" in this moment. It doesn't mean you'll never be ok again. But focusing on forever is intimidating and impossible to know. Focusing on today is how you get through. So it's ok to not be ok. You'll be ok again soon.
What if you gave yourself permission to be a hot mess? People say this as an insult. But I look at it differently.
Anything that gets you to say and feel like you're hot is good! And admitting that you don't have it all together all the time is realistic. So let's take hot mess and make it empowering.
LIFE IS MESSY. We cannot possibly go through it without getting a little holy mother of god that's a lot of dirt thrown at us.

I am a hot mess. I am not the perfect mom. But I am enfolding arms and cheek to cheek comfort when they need hugs. I'm not the perfect spouse, but I'll wake up each day and keep trying. I'm not the best friend, but when I can be, I'm there 150%. I'm not as healthy as some, but I'm healthier than I was a few years ago.
We can be simultaneously hot (good!) and a mess (imperfect).
We can get frustrated at the jerks people who hurt us. Then try to pray for them. We can worry if we're living up to expectations. Then give ourselves permission to fail. We can push ourselves to give to others. Then take time to care for ourselves.
You don't have to have it all together all the time. It's ok to be a hot mess. Sometimes you'll feel more messy than hot. Today I'm giving you permission to ugly cry. Then wipe your cheeks off and get back up and focus on getting through this day. The days of feeling more hot and less messy will come.
I invite you to share a photo of yourself at a time when you felt like a hot mess! This could be a day that the kids went cray but you rocked your hair or had pretty sunglasses. Or a day that you didn't do anything to your appearance but felt pretty. Or a day that you knew you looked like mom jeans and breast milk stains on your shirt but looking at your glowing baby erased all that.
Give us your thoughts!
comments