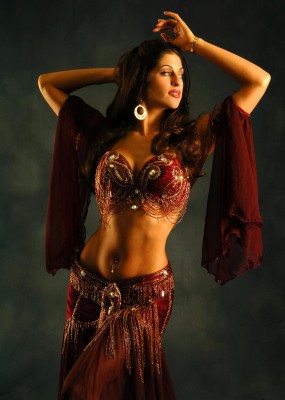 Be careful what you wish for because you just might get it…
I am amazed at the number of times I have asked life for something, and it just shows up! Ask and you shall receive! Life can be so magical that way…
I have needed music and dance in my life lately, and it keeps showing up.
I've been invited to perform as a belly dancer at a local restaurant recently; seen a live concert by Toronto-based singer-songwriter Arianna Gillis in a barn at a friend's ranch last Friday night; watched one of my favorite bands, Maroon 5 perform at the Saratoga Performing Arts Center recently, and I may get to see another favorite, Michael Franti and Spearhead, tonight in Northampton, MA.
This must be just what my soul needs. It is all adding to my joy!
Traveling the World
I set the intention many years ago to travel to at least one international destination a year, along with travels in the U.S. And one way or another I have managed to pull that off just about every year since.
Spain, Argentina, Cuba, Russia, India, Jordan, Dubai in the United Arab Emirates, Turkey, Greece, Italy, Malta, Costa Rica, England, and Canada are just some of the places I've traveled. And I've traveled to 40+ of the U.S. states (I have yet to spend time in the Dakotas, Alaska, Idaho, Nebraska).
I love to travel, and I've attracted opportunities, some through work, and many personal. I have family members in Argentina and Spain so that has afforded me many chances to travel there.
My discretionary spending cash tends to go towards plane tickets. It's a high priority for me.
I make it happen, and yet I feel certain that it's happening in part because I commit to it. It's a vision that I have maintained all these years, to be that "jet-setter" type who travels often.
I believe in it and live it as a lifestyle. It feels great!
Living in Beautiful Homes
I like to joke that I must have built orphanages in a previous lifetime, because amazing places to live seem to just fall into my lap. This was true when I moved to San Francisco, which has a tough and competitive housing market.
I still always seemed to be able to find apartments that met my wish-list criteria, and I never had to fight to get an apartment. I was always the landlord's first choice as well.
And I always managed to find amazing roommates, with whom I could co-exist peacefully. This isn't always an easy thing to do!
Things always worked out serendipitously for me. I think a lot of this had to do with setting positive intentions, holding a vision for what I want, and believing that it was out there.
Basically, I found plum opportunities because I believed they existed.
I also followed my gut instincts about apartments and roommates. I acted on my instincts.
The results were phenomenal, every single time. My living situation was always just what I needed to support my dreams at the moment.
Moving My Work Forward
I can't tell you how many times I have needed something in order to advance my coaching or writing or dancing career (I still do some of each!) and the right person has turned up at the right time.
I've met producers, the person who hires the dancers, someone in need of coaching, just when I was available to give my time and energy to something new.
Somehow those I need on the path always just show up. Of course it means I have to be really dedicated and committed to my goal, and to show up myself, getting out there in the world.
It's in "getting out there" that I've found people who can help me to take the next step for my dreams.
My Teachers Finding Me
This has also been true of my spiritual teachers, each of whom was referred to me by somebody else or who just "showed up" in my life, just when I was seeking advice and wise counsel. This was true of my spiritual teacher Nithya Shanti from India, who I found on Facebook one day when I was feeling down.
Rather than just stew and be miserable, I decided to find something to inspire me, and I stumbled onto Nithya through a friend's page. He is a "happiness teacher," and I had a rather nebulous goal at the time to be "joy teacher."
He was being and doing in the world just what I had intended to be and do! I knew his teachings were bringing freedom and happiness to many people.
I set a strong intention, making a wish to meet him, and as it turns out although he is based in Pune, India, he was going to be teaching in NYC one week later.
Nothing could have kept me away!
This past spring another Buddhist teacher, Erik Drew Jung, "found me" when a friend needed help promoting his workshop via email and Facebook. I helped and attended and discovered that he was there to deliver just the message I needed in my life at that time.
It seems that when I put the call out for help in the universe, asking for guidance from teachers, the universe responds. It still amazes me every time how much synchronicity there is, and how much love and guidance.
We sometimes just need to ask.
Ask for What You Want!
The first step of course to asking for what you want is knowing what you want!
So if your goals and dreams aren't clear yet, taking some solo time to work on that is important. I find that there is something magical about writing goals down.
It makes them feel more concrete, makes you more likely to "ground them" in reality by setting a targeted deadline. It just makes it all feel more real to me (and, research shows that those who write down goals are generally more successful and more likely to achieve their goals!).
Enrolling Others 
Next comes the step that Landmark Education calls "enrolling" others in your dream. This just means sharing dreams with others and stating them aloud so that people know what you want and can help you to achieve it.
In the age of social media, this could mean blogging about a dream as we do here on 8womendream, or posting about it on Facebook. Or it could just be "enrolling" people through individual conversations.
You never know what those conversations might spark in someone else, or who might be instrumental in the future in helping you to live your dreams.
That's the fun of it: it's an adventure and a mystery!
Taking "Turtle Steps" 
Martha Beck, the life coach who writes for Oprah's "O" Magazine and co-producers her "Live Your Best Life Show (and with whom I trained as a coach!), advises her clients to take "turtle steps" or baby steps over time towards your dreams.
If you take a turtle step every day (she advises clients to create a "four-day win" by taking turtle steps four days in a row), before you know it you'll be living your biggest dreams. It requires consistent movement, a little step every day.
I believe that when we take the first step in faith, the universe will often meet us more than halfway, and synchronistic events will occur that help us to live our dreams.
Celebrating the Little Wins
When en route to a goal or dream, we are going to encounter obstacles. I find it helpful to celebrate some "mini-wins" when I reach a milestone, to remind myself that I am making progress!
The "big wins" – landing a new job, getting married, buying a house, having a baby, etc. – happen less often, and there can be little victories on the path every single day.
Notice when you are doing something well, and congratulate and celebrate yourself as you make progress on your big dreams!
Enjoy the Journey
Don't forget that it's about the journey, not the destination. If our happiness is dependent upon something outside of us, and upon achieving goals, then it can be taken away from us at anytime.
If we choose to be happy just because we are alive, and creating our lives as we go, and if we enjoy the process of creation, we're going to have much more fulfilling lives than if we postpone happiness until we "get somewhere."
There is nowhere to "get to." Life is now! Happiness is now.
Enjoy your life every day, and share your little wins and big wins toward your dreams here!
Lisa