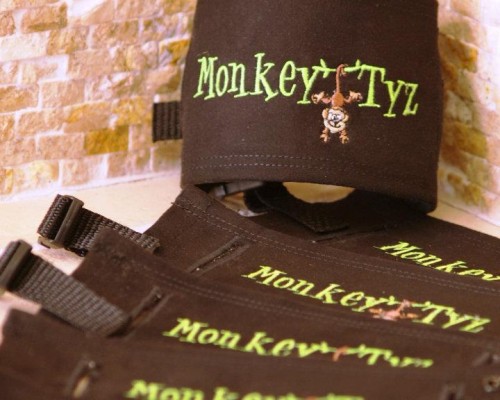 Gayleen Pellicano was ready. Her Monkey Tyz product was all set for the product launch spotlight at the Shark Tank auditions. In my previous post highlighting Gayleen's story and her product Monkey Tyz, she was about to hop in the car with fellow dreamer Remy by her side for a whirlwind trip to Southern California.
The last few months have been crazy busy for Gayleen. In her words the product interest is "gaining traction." Watching the orders grow from 4 per month, then 10, and climbing to 5-10 orders per day.
One of her favorite parts of bringing the product to market is receiving letters from grateful mothers and caregivers. They describe how Monkey Tyz has impacted their lives with messages that they are "So glad I found you!"
There's been a lot of buzz her world since announcing her plans to audition for the next Shark Tank. It took a lot of planning to get ready for an intense few minutes of pitch.

Gayleen and Remy drove down the night before so she could focus on the presentation and be settled and rested before the event. Regardless, that had her feeling like she was in a fog, simple because the entire situation was so surreal.
With her Monkey Tyz presentation things in tow – including the all important car seat – they turned the corner when arriving to the Shark Tank event to see people lined up forever.
Gayleen recalls thinking "Oh man – all the competition."
Just making their way through the lines was inspirational. Along the way she got some great advice from some energetic guys that were out from New York. Their big smiles made Gayleen ask how everything went and they shared the best advice: Be yourself, be bubbly and energetic.
As with any event, people watching can be an event in itself. Watching everyone get prepped ranged from super energetic to sedate. Even watching some people filling out paperwork in line.
While waiting, the sight of seeing those leaving their auditions with dejected looks – all from the same door on the left.
Time for the spotlight
Then it was time for Gayleen to bring Monkey Tyz to the spotlight. One last reminder to herself and she was ready "Be myself."
Walking in the room, she was set up for the pitch with the product and felt ready to go then asked her first question.
Does anyone have kids? No.
No worries! She set up the scenario of why her product came into existence, talked through the reality of children getting out of their car seats, and showed them exactly how it works.
She rolled through all the details, including all the numbers that she drilled for days to keep everything straight and was the one thing she had been nervous about.
After positive feedback and one simple question – do you have a patent? – they let her know she was all set, and they wanted to see more.
I asked her how it felt to be in that room. "It went so fast, I was in the room for less than 10 minutes." Now that's a whirlwind!
Next on the agenda…
Over the next few days she got the plan for next steps that included creating a video audition, ideally with a real child to demo the product. Even getting that together had a few glitches — all dreams do — but now its down to waiting.
How does it feel to be waiting on news that can kick off your dream? Like pins and needles waiting to hear… any day now!
Gayleen and Remy were back on the road that same day and made it back up North running on adrenaline. She recalls the giddiness of reliving the events of the day and had the best time just getting back home.
Her experience taught her a lot about pitching, being prepared and most importantly "exit out the RIGHT door!"
Want to keep up with what's next with Monkey Tyz? Visit their Facebook page and keep your fingers crossed for great news.
Keep launching – Heather