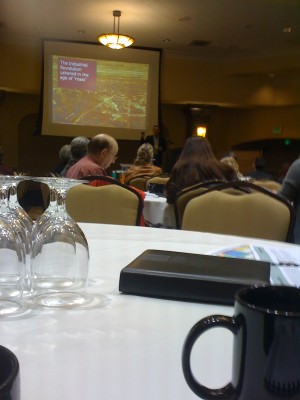 My entrepreneurial path down my dream road to a successful product launch led me to a conference this past week.
It was … Social Biz World.
SocialBizWorld is a Social Media and Web 2.0 business conference for private and public-sector business executives, leaders, managers, employees and consultants looking for insightful speakers, hands-on workshops, in-depth discussions and real-world examples to move their business forward with new media.
There were opportunities to learn more about SEO, social media, online marketing, and online success stories to help push your entrepreneurial pursuits online.
What to do first?
Out of all the options at the event to take advantage of, we got up close and personal in a round table discussion about monetizing your business with author of "Webify your Business", Patrick Schwerdtfeger.
Patrick was one the the most dynamic speakers at the event, and Patrick had some incredible ideas, with just a few shared from his book. I always love the reality check of sitting at a table with your peers, and getting that AHA! moment.
I'm going to be sharing more on Patrick's road to author and speaker in a few weeks after I track him down for an interview.
SEO (that's search engine optimization) experts had incredible tips and reminders that kept me taking notes most of the event. Most of the questions popping in my head were along the line of "I know that… but when's the last time I applied it to my own site?"
So what can this "social network thing" do for you?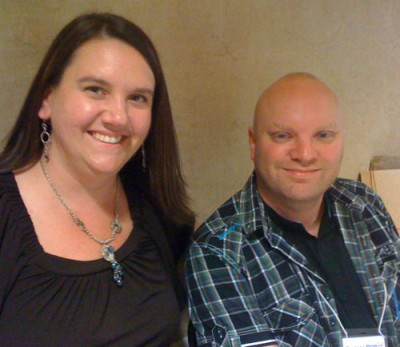 Well, let me introduce you to Paul Smith a.k.a. the "Twitchhiker".
Paul shared his story of hitting the road with only the kindness of Twitter strangers to help him along his way in his book, "Twitchhiker: How One Man Traveled the World by Twitter."
Paul's story was a blast to hear –the logistics of getting from one place to the next, the people he met, and the interesting reality that there are whole areas of the US that don't use Twitter – gasp!
I loved his use of tech tools (of course, since I'm a geek too) for this presentation, ranging from his iPhone, iPad to his Mac laptop.
Getting out of the office to see, hear and share how other business and social people are using this new technology gave me some new perspectives on product launches, marketing ideas, and a couple future post ideas here on 8 Women  Dream.
I learned that –
Interacting with fans through social media is a great way to increase and develop word-of-mouth for your product or service.
Social media interaction leads to feedback from readers that provides entrepreneurs with insight into customer product perception which allows the entrepreneur to adjust their product accordingly.
Social media can enhance traditional marketing methods.
You shouldn't depend on social media to launch your product … it's more of a product test and reader engagement  relationship.
Do you think social media can benefit product launches?  Have you tried using social media for your product launch?
~ Heather