As a product review dreamer you would think the concept of a strong team and collaboration would make me an expert on the concept of asking for help.
I don't ask for help.
Yes, I do ask, but it takes me a really long time to get around to it. The trick for me is the constant internal fight of reminding myself that it is OK to ask.
I didn't have the luxury of feeling that it was OK to ask for help when I was a child of a toxic mother. Asking for help then was inconceivable, and I learned early on it was better not to risk it.
When you are dealing with ingrained patterns, on top of a self-described Type A personality that I finally admitted to having about 15 years ago, and an intense competitive streak – it's strange to admit I still struggle with this self development problem.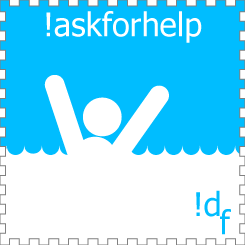 Getting help for your Dream Big Challenge
This week I wanted to offer my experience with this particular item in the 8 Women Dream Dream Big Challenge. Every day when I log into DailyFeats and this challenge, this pretty blue stamp that makes my mind go blank every time I think of working it into my day.
Ask for help? The image shows a figure in water, and that is about the time when most of us finally get a clue and ask for help – right when we are drowning.
My 8 Women Dream team has helped each other over the course of our dream struggles countless times. For the challenge we offer this sage advice:
"They don't call it a "dream team" for nothing! Keep your dream support close and !askforhelp when you need a dream boost.
The DailyFeats description has a lot to offer:
Why

Help! If it weren't cool, the Beatles wouldn't have sung about it. It's always acceptable to say (or sing in British accent): "Help me if you can, I'm feeling down. And I do appreciate you being 'round." In fact, you don't even need to be feeling down. Sometimes you just can't do something by yourself!

Knowing your limits isn't a sign of weakness; it's a sign of strength. Asking for help with a problem is a lot more responsible, after all, than risking it all on your own.

How

Ask and you shall receive. Whether you need assistance opening a jar of spaghetti sauce or finishing a tough project at work–reach out to someone you trust, and promise to return the favor.
Helping others is so much easier
I have always jumped at the chance to help others. No matter what the issue, concern, or need was. And when they wanted to help, because I do get offers, I typically say "no, thank you". Usually this happens without even my even processing it as my own knee-jerk response.
This is a tough part of my dream challenge. Anyone should be able to ask for help. I have asked mentors, successful people in my field, for help with difficult decisions or direction on strategic concepts. But asking for help with a simple "Is it A or B" decision? I thought I might be a waste of someone's time.
Like most dreamers pursuing a big dream we run into the opportunities for self development when we are least expecting it.
I'm at a stage now in my projects that technically, there is no help that I currently need. I'm not covering, I promise.
But I know the next stage will need feedback, and I'll have to ask my trusted dream team for help. I know I will get unconditional support all around.
I just have to get past my own hesitation… and ask.
When was the last time you needed help, and purposefully didn't ask for it?
~ Heather