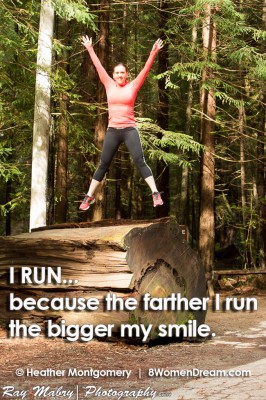 I was thinking back on a few Fitness motivation conversations from the past. The idea that motivation comes out of thin air is truly crap.
There are some of you, dear dreamers, that have been athletes, dancers, or gym rats in the past. One day you just stopped. Stopped going to the gym, took that dance class off your calendar, quit running around the school track.
Fitness motivation needs a spark to get back to your workout.
Despite all the reasons and excuses.
A while back I shared some advice on recovering from an injury and getting back on track with your fitness goals. I know a lot about getting back on track because I go through it a few times a year.
I followed my husband to a beautiful outdoor excursion to Armstrong Redwoods. This little patch of the redwood grove is in west Sonoma County. It's home to the Colonel Armstrong tree, the oldest in this grove and estimated to be over 1,400 years old.
At some point in my youth, I must have visited this oasis of a forest, but this is my first time back in years. The trees are still majestic, towering hundreds of feet in the air. They offer a dense cover, making the morning a chilly 45 degrees under the canopy.
One task for the day was to borrow my husband's photography skills and capture some great fitness photos of my running through the forest before I went for an actual run. You know, try and get the essence of how healthy fitness looks right before you start dripping with sweat.
I didn't realize how low my energy had been until 5 minutes into my run.
The combination of my leg injury and the weather redirected my few short run workouts to the dreaded treadmill. I hadn't realized that my reluctance to get back to longer runs wasn't just a fear of hurting myself again. It was a sort of fitness de-motivation.
Injuries affect your ability to move, but not only physically. Yes, there was a fear of re-injuring myself, but the true fear was that I'd lost it. The "it" I am referring to is that ease of a run. The pace, the lung capacity, the feeling that would kick in 15-20 minutes into a workout that makes everything click.
Ask anyone who has found a fitness routine that gives them a sense of happiness and strength. Ask them how they feel when they find that spark again.
My spark of fitness motivation feels like a light getting brighter.
It starts out dim and hidden behind all the thoughts that want to stop me from putting on my running shoes. Eventually, the light is so bright is obliterates all those negative ideas from my mind.
This is the runner high. You can find this in any workout that makes you smile.
This is what keeps me going when other parts of my body are reminding me that I haven't done this in a really long time.
I won't say it didn't hurt. Trail running uses so many little stabilizer muscles. Those muscles don't get used as often when running on a steady, hard surface like an asphalt.
My foam roller is my friend and nemesis at the moment.
But I keep remembering how it felt with each footfall on soft redwood strewn paths, giant trees, and dappled light. Deep breaths of cool air and smiling at fellow photographers as I looped around one more time.
Your spark is your fitness motivation.
You are the only one who knows what it is. I really wish I could find it for you, bottle it up and hand deliver it in a gorgeous box tied with a bow.
I am truly sorry I can't do that. But you can deliver that gift to yourself every day.
Where did your fitness motivation come from today? Comment now and spread your motivation around.
Heather