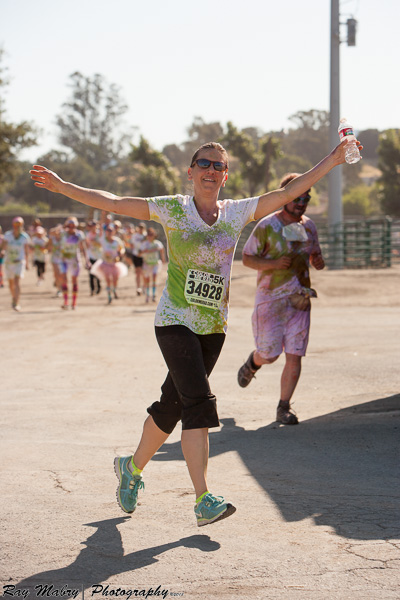 Fitness challenges can be really fun, and as your fitness blogger I feel it's my job to prove it to you. Have you thought of trying a 5k? This article will cover some great options, and get you motivated to sign up for one, and make it fun.
Why a 5k fun run?
Whether you are a walker, jogger or put the miles on you shoes running, a 5k fun run is a great place to try out a group event. A 5k run equals 3.1 miles, so the distance is not overwhelming for walkers which these events encourage. This par and its not timed For those of us with a competitive streak that means it really doesn't matter how fast you finish. This is all about the journey.
Color me RAD lets you show your true colors.
The journey for a Color Me Rad event is to run or walk the course while occasionally being pelted – in a nice way – by pigmented cornstarch and colored water.
Start out as clean as a newborn babe, and throughout the run, you'll coat your chaffing thighs with blue, green, pink, purple, and yellow until your face, shirt, and body come out silkscreened like a tie-dyed hippie on the other side. Yup…that is how you turn regular running into The Art of Running ™!

Each section of the run adds a new explosion of color to your clean, painter's palate until you cross the finish line into a final blitzkrieg of color.

Source: Color Me Rad, FAQ: How it works
Forget speed, with a color run the one who is covered head to toe can claim to be the winner!
From the moment you walk on the grounds of color me rad the energy will draw you in. Pumping music and bouncing participants is the first thing you see. Most everyone is wearing white.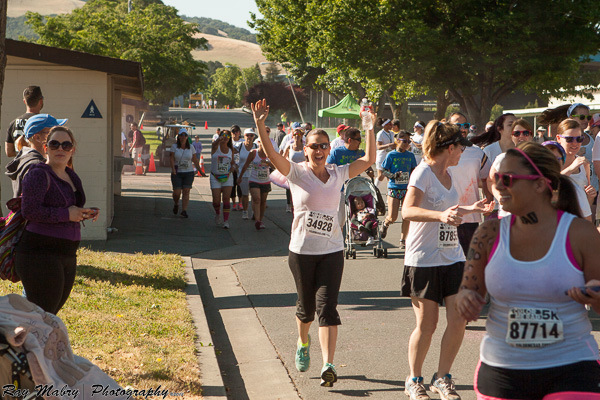 I actually bought a white T-shirt specifically for this event. I don't typically own anything white, including a white T-shirt, because I am very good at staining my clothes. Ironic that the whole point of this day was to get as colorfully stained as possible!
There's nothing like a group of excited people all in white jumping up to try and grab little bags of color with the intention of throwing it all over everyone.
If you make it to the start line still in white you won't be for long! Just a few minutes after the start the first color bomb hits. The huge cloud of color is a huge giveaway as the crowd slows to be sure to get as covered as possible. Event volunteers toss handfuls of colored cornstarch as you pass by. If you time it just right, you'll get a great splash of color on a part of your "white canvas" outfit.
Each color bomb station has one color to adorn you with. The first was my favorite – orange! I made sure to stroll through and spin around to get the most color impact at ever color bomb station. I love that every volunteer was full of encouragement and high fives as you came through – no matter what speed you were going.
Running in any crowd is fun and different every time. Fun events like these make for amazing conversations around you. I loved hearing a mom encourage her small son to slow down his pace and take deep breaths and his enthusiastic response "OK mom – we're almost there!". Teams of friends with great slogans, stopping to wait for their friends and shouting "You got this!" clapping and cheering.
You can tell from the video that this event had some amazing energy.
Your next 5k fun run can be rad too!
Where to look for the next fun run in your future? There are some amazing ways to complete your first (or next!) 5K fun run and you can definitely make it a blast.
Color Me Rad –  "Instead of running FROM something, get ready to run FOR something at this year's Color Me Rad.  Run for the Hell of it."
Dirty Girl Mud Run – "It's like a day at the spa, but way more therapeutic."
Disney Run – I had a new running buddy clue me in on how amazing Disney Run is for families. "When you run Disney, every mile is magic!"
Active.com –  I use this site to find upcoming events in all sports and to get motivated for my next fitness challenge.
What looks like fun for your next fitness challenge?
Go get your fit on – Heather