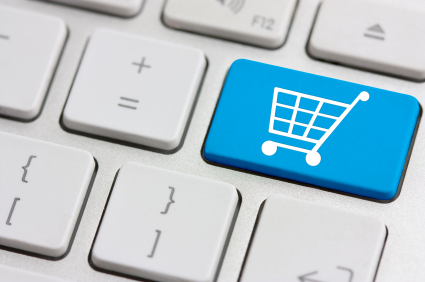 You've got the idea. You've may even have a product line ready to go. Now you want to sell your stuff online. Brilliant! Try asking Google what the best web shopping cart is and you just might lose your mind with all the options. As your resident product launch expert, let me talk you down off the ledge and offer some advice.
For years I've had clients call with the urgent need of having a shopping cart online. The belief is that their clients and customers will be thrilled with the option to purchase what they need online 24/7. That may very well be the case, if your customers are already headed to your site. If not, then some of the basic web shopping cart variations covered here, may benefit you by the shear nature that they already have an audience to sell to.
So, where do you start?

How many products do you have to sell? Are there lots of variables to the product – pick a size, pick a color – or is it ready to go? If you only have a few simple products, and already have an online presence with your web site or blog, you may want to consider using PayPal Buttons.
To let your customers buy one item at a time, put a Buy Now button on your website. Creating the button is easy. We provide the HTML code, which you simply copy and paste to your site. Your customers can then click the button to buy an item.
You may have an opinion about PayPal services, but they are still the number 1 payment processing option online.
Pro: No additional upfront cost for a shopping cart, only minor changes needed to your web site or blog, great tech support
Con: Simple cart options may not meet your needs
Fulfillment solutions
Instead of a product, what if you just have a great photo or graphic you want to promote? Here is where a manufacturing fulfillment option might work for you.
The big players in this sector are Zazzle and CafePress. You will find a ton of online opinion on which one is better, who offers the most products for customization (CafePress seems to be winning), and who is the most user friendly (Zazzle gets the loudest shout out for this feature).

Here are the basics:
 Zazzle is a print-on-demand manufacturer that allow you to create, share and celebrate your unique interests and passions.
 CafePress.com is an online retailer that produces and dispatches a large variety of user-customized products on demand.
The benefit for either of these solutions is that you can easily integrate them into your existing site or blog. Another great benefit for us bloggers? They both play well with WordPress!
Pro: You supply the artwork, the rest is up to the customer and fulfillment company, super inexpensive
Con: You have no control over quality, products they use, or delivery
Hosted solutions
Need something more robust to support your dozens of products? A hosted shopping cart may be the best option for you.
What is a hosted solution? Kind of what it sounds like. You get the benefit of a robust shopping cart without having to host it yourself.
You can test your online store without the worry of understanding the technical stuff involved in an free or open source shopping cart software solution. A great benefit is that they typically will scale with you as your business grows.
Want to comparison shop? Top Ten Reviews offers a a side-by-side breakdown of the top shopping cart solutions available. Once you start looking at all the options, you will understand how complex this decision can be.
Pro: Super easy set-up, little or no technical skill needed, include hosting
Con: Often have high monthly fees… that keep going as long as you keep your store open
Host your own
Warning: If you can't define what open source is, don't try to install, configure or try to set up your own cart. You will just end up with a lot less hair.
With that said, there are some amazing open source solutions for shopping carts available for low to no-cost. You can most likely use your existing web host to add shopping cart software to your existing web site. That is, if the host is technically set up to handle shopping cart software.
Over the years, I've used open source software for several shopping carts and every single one has something you would love to change. That doesn't mean that it won't suit your needs, it just may get you 97% there while possibly leaving you wanting just a little more.
How do you know a shopping cart is meant for you to host yourself? A big clue is the "one-time licensing fee". This basically means you buy it, like you would any software, and manage everything else yourself from there. Top Ten Reviews includes several self-hosted solutions in their review.
Pro: You own it, no ongoing fees
Con: You own it, if anything breaks you get to fix it, and they can be complex to get up and running
Why all the shopping talk?
Not only is the time ticking down to Black Friday but the holidays are officially upon us and for many that means shopping has begun. Granted, I may just have an ulterior motive for the shopping talk.
We 8 Women Dreamers are about to launch our own dream products to offer to you – our fellow dream readers. This is something Cath and I have brainstormed and discussed for quite some time, but now it's time to start asking the tough questions.
What the heck do YOU want?
You, our faithful readers hold the answer to that. What does help you stay motivated to keep going after and achieving your dreams? Do you need a daily reminder on a coffee cup, or a sign you can hang in your office that helps you stay dream-ready?
We can't wait to see what works for you. And if you are launching your own online store, comment and share your experiences! I know I'll be updating you soon on ours.
– Heather
Disclaimer: Any opinions expressed are my own, and opinions are based solely on my experience with various shopping cart software products.