Are you looking for unique holiday gifts and Black Friday deals? I found quite the selection for amazing gift options, along with a few deals I want to pass on to you at the San Francisco Thread Show this past weekend.
I've learned the best thing for my own creativity is to get out and experience what others are doing with their creative outlets. So it's not a huge shock when my son, Budding Fashion Designer, gets a jolt out of an event like the Thread show.
Independent fashion rocks
Thread's San Francisco show has been a staple on our calendar for two years now. Not only do I get to offer product reviews for a few of the unique products we found, but an interview with the Budding Fashion Designer guarantees we will be back next year. Turn it up – I love what he's got to say about how inspirational it was for him.
We took quite the crowd with us to this year's event. A whole group of friends and family totaling 12 of had a caravan down to San Francisco for fashion fun. Now that is an outing! Thank god my son is cool with rolling with all the women, since he was the only testosterone in the group.
It took me forever to actually walk the whole show. Not because it was absolutely huge -Â  a good size this year and not overwhelming – but because every 10 feet I would be stopped by one of our group with an insistent "You have to see this!" and being dragged over to check it out.
Fashion from the source
The independent fashion and jewelry designers were a wonderful mix. I gave the Budding Fashion Designer a budget and actually made him stick to it. Amazingly he took my advice of checking the whole show out before laying out any cash. We found a handful of menswear designers represented, which was a nice surprise and although geared for himself 4+ years in the future, the designs were a blast to peruse.
Stand out products
After making the rounds and chatting with dozens of vendors I went into product review mode. Who had something unique, different, fun? Was there a story to tell?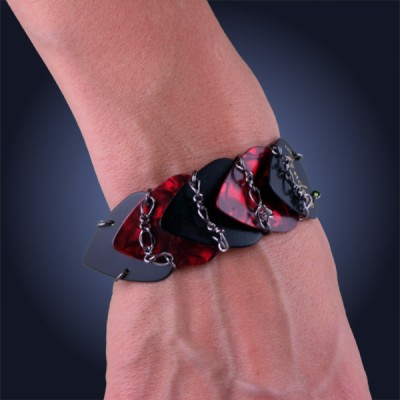 The sparkle of guitar picks caught my eye, and as my husband just recently picked up the guitar for the first time, I had to look. Immediately the Budding Fashion Designer pulled one of their super fancy bracelets off the display and snapped it on me. Oh shiny!
I had to ask his opinion if I could pull it off. He covered with a "Maybe… in a different color." I do love honesty in a son/fashion consultant.
Lisa DiMaggio founded her company, Rock N The Trend.com, to connect women. Women who love music, women who love fashion, and above all women who embody originality. Since starting this company she has designed and uniquely hand-crafted each of her jewelry designs. Each piece goes through a rigourous making process taking upwards of an hour or more with the utmost attention to detail with an emphasis on quality and character.
The designs were well composed and from a distance, didn't immediately look like guitar picks. Of course I love the unique use of an unusual object, so yes, they totally rock. Excuse the pun.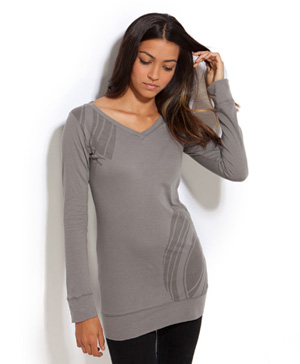 Can fashion protect wildlife? This interesting question is posed by Wild Life Works, a fashion company that is using their fashion to create jobs and protect wildlife, right in the midst of Kenya.
Wildlife Works' mission is to harness the power of the global consumer to create innovative and sustainable solutions for wildlife conservation.

We call it Consumer Powered Conservation (sm)

When you buy a Wildlife Works product, you become an agent for conservation. You're wearing the brand that says you won't sit quietly by while the last wild things in the last wild places disappear forever.
A big thank you to both Joyce Hu, Creative Director and Stacy Zechel for chatting at the show. They had great energy which of course made me want to find out more about what Wild Life Works has going on.
Do your part and SAVE 20%
Get your Black Friday/Cyber Monday deal now! Wild Life Works is offering an amazing deal – you save 20% and give back at the same time. Click here for the details:Â http://www.wildlifeworks.com/events/givethrice.html
My favorite of their collection? The Kitani Longsleeve Tee (pictured to right). The fact I'm even looking at something form fitting must mean I'm getting used to my shrinking self.

The winter weather has us layering up, and yet not everything we own works with multiple layers without making us look like we started on the Thanksgiving desserts early this year.
Carlie Tracey is the designer behind CH-ARMZ, a unique and fun way to expand your wardrobe by adding sleeves where there are none. I had a kick chatting with her about her company and where her idea came from. Her background in the film industry as a costume designer did not come up at the show, so now I'm going to track her down and get an interview!
The whole concept is fun from the fashion opportunities to expand your closet (and keep warm), to the graphics and packaging. I pulled the Budding Fashion Designer over for his opinion when choosing my own pair with a very loaded question "Can I pull this off?". It was a leopard print sleeve.
He calmly looked around at all the options while I added that he knew my wardrobe. "I think you would get more wear out of the black". Cool – that decision made.
Of course he also added his own unique marketing advice directly to Carlie by bluntly stating "You should take this to middle and high school girls because they are always putting together cute outfits and then covering them with stupid hoodies." I loved her comment that he's a "really good marketer". Yep, that's my entrepreneurial kid there.
Very fun product and perfect for a girlfriend gift this year!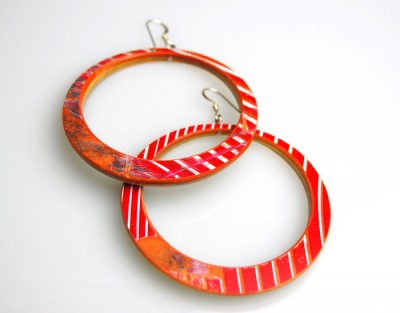 The Budding Fashion Designer is also an avid skateboarder so when I saw the Maple XO booth I knew it wouldn't be long until I was ambushed to go check it out with him.
Anyone who has been reading my posts for more than a month knows I love unique jewelry. Duh. What makes this jewelry a different experience? Gorgeous things come out of a thrashed skateboard.
I knew about this type of jewelry, but the Maple XO line is extensive in it's styles for both guys and girls. In fact their large hoop earrings are so beautifully shaped that their previous life as a skateboard just adds to the details.
There is some absolutely beautiful wood that goes into a skateboard and the designs show it off in a perfect way by rounding or angling the designs to highlight all the layers.
The owner/designer Lindsay Jo is freaking adorable and very cool to talk to. Check out the Maple XO site for some incredible accessory options. Her MXO:raw collection is calling my name.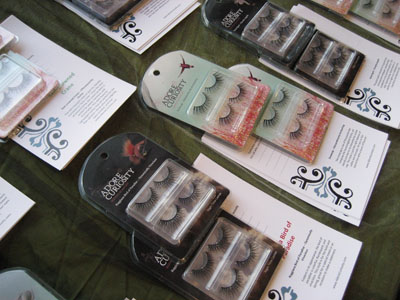 If you have a woman on your shopping list who loves bold and edgy fashion, this may just be the product for them. A start-up company who's web site will be live any day now (no pressure), Adore Curiosity has an interesting twist on beauty enhancement. Their lashes are based on nature and pull their shapes and styling from different types of birds.
I was pulled over to their booth to chat with the very fun and pretty girls, by my good friend KB who decided I was brave enough to have a pair put on by their professional make-up artist. Once I got to talking to them about my husband Photographer Man and some of his upcoming projects, the topic was off my face and onto product reviews and collaboration.
I have not worn fake lashes in years. I used to on stage, and the very occasional big-night-out. These looked way too fun to pass up. Maybe it's that I'm in my 40's and just don't care what other people think anymore. Or I'm just ready for something fun and frivolous.
Let's just say I came home with 4 different styles under the guise of getting them for my Photo Man. Oh, and I will be wearing the "Bird of Paradise" on Thanksgiving. What the hell?
Got your Black Friday shopping done?
With any luck, I helped fill a few stockings, or more, on your search for a unique holiday gifts. Supporting independent designers and getting a great deal makes it even better.
Which product caught your eye? Share in the comments – I know all the designers would love to hear your feedback!
Happy shopping – Heather