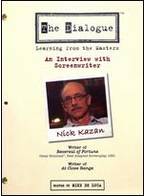 I have a screenplay.  I'm the dreamer with a screenplay that's been rejected . . . more than once.  My dream is to revamp this rejected screenplay and get it produced by Hollywood.  Next week I will begin my journey back from rejection to form a plan for how I'm going to turn this screenplay of mine around.
Stay tuned.
This week I offer a video interview with Nicholas Kazan, a second-generation screenwriter who has made a reputation for strong psychological dramas.
He is the son of famed screenwriter-producer-director-actor Elia Kazan, and has a talent for scripts described as "edgy, terse, bleakly funny".
He offers here his tips on screenwriting.
Joining 8 Women Dream is a golden opportunity to spread my literary wings – and to write about my dreams of getting my screenplay/reality show produced while traversing through the tenuous medical condition of my disabled son, Jackson. I aspire to enable people to be their own or their loved ones advocate when dealing with the medical world.
Go see a movie this week.  You'll make a screenwriter happy.
Toni
Toni left 8 Women Dream in November of 2010 to focus on Club B.  She still has not had her screenplay published – but don't give up hope.