Happy Positive Thursday dreamers!
I hope you're having a purposeful, joyful, thought-provoking and exciting day.Thank you to everyone who read and also commented on my post last week, 4 Ways to Put Others' First.
I explained:
Today, you have the opportunity to make a difference. Your actions and deeds you do for others say something directly about you as a person. And honestly, the blessings and joy you get from helping others are beyond rewarding.
It's so true: while in the process of achieving your own dreams, you can also help to make others' lives a little easier. Actions speak louder than words.
On this rainy and cold morning in Ohio, I'm blogging with my dogs at my feet and coffee in hand. Two weeks from today, I'm flying to California to embark on the next chapter of my life.
Extremely weird but also extremely exciting! I'd like to say this was possible only through my own hard work and doing, but that is not the case at all. Finding and landing a job was a task I took on, but I would have never been able to achieve this dream without the help of so many other people.
That's why today I'm going to discuss your circle of influence.
The above image states: "Surround yourself with people who believe in your dreams." Beyond truth! Having people around to cheer you on, support you, encourage you, believe in you and help you makes accomplishing you dreams – and life in general – a whole lot easier.
I know people who have accomplished their largest dreams and goals alone without any help or support and that is truly amazing, but that is not the route I would take. Recognize that there are people out there FOR you.
People who care about YOU and what YOU'RE doing. It can be twenty people, it can be one person. Regardless of number, consciously be aware that they are here to help you and not hinder you. These people are your circle of influence.
Something powerful I've read recently is Stephen R. Covey's book "7 Habits of Highly Effective People" I highly recommend it.
The sixth habit is SYNERGY.
Simply put, this means creatively working together. It's the "two is better than one" mindset.
It's taking other people's experiences, ideas and thoughts to produce greater work together. This is what the circle of influence is all about; learning from other people's ups and downs, from other people's failure and success, from other people's words of wisdom.
People in your circle of influence will not only encourage you to pursue your dreams, they will offer you the feedback and advice you might need to see things from a different lens. They offer you insight to prevent you from falling flat on your face several times.
People in your circle of influence will not only provide you with the tools to live life to the fullest extent, they will be your #1 cheerleader. They will be there to encourage you, support you and pray for you when you don't know what step to take next.
Those in your circle of influence have your best interest at heart and believe in you.
Warning: this doesn't mean they will always give you a fluffy, happy or advice. My mom explained this best and continues to do this to me and my sisters daily . . . those in your circle of influence speak the truth in love.
They will tell you when they are concerned, why they are scared, what is upsetting. They are realistic. The people YOU CHOOSE to place in your circle of influence not only give you encouraging pep talks, but they voice their concerns and fears.
It's not out of fear, it's out of love for you and your future. Embrace their advice. Take it in and evaluate it. Value their opinion!
I've been blessed with a fairly large circle of influence. I have seven other 8 Women Dream dreamers who have been nothing but supportive and encouraging; specifically as I embark on the next journey in life.
Moving across the country to start my first job is a huge transition and these ladies have offered more than congratulations; one offered me her home for a few weeks to get my feet off the ground and all have offered words of wisdom and prayers.
I've made tons of friends in college, but I'm fortunate enough to have a few strong friends in my circle of influence. Calla is a prime example: she's not only been encouraging about my new transition, but been helpful and insightful giving me valuable advice about things I wouldn't initially think of.
My parents have been beyond supportive and definitely have been in my circle of influence for most of my life. Spending this three weeks at home with them between my college graduation and my new job in California has already been so very needed.
They've emphasized relaxation, rejuvenation and quality time. As much as my parents push me to continue sprinting toward my dreams and goals, they also remind me when and why to slow down and take it easy sometimes.
Surrounding yourself with people who believe in your dreams and believe in YOU makes achieving those dreams easier and more fulfilling. And in the end, you have more people to celebrate with.
Don't forget to remind those in your circle of influence how much you appreciate them and value their opinions! Enjoy your day.
Until next positive Thursday
XO —Andi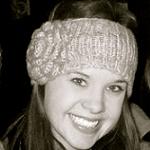 Andrea's dream is to graduate college from Ohio University in spring 2011, to find a job that allows her to utilize her public relations education and skills; to launch her own personal website www.polish-my-crown.com; and to become a certified life coach and motivational speaker.