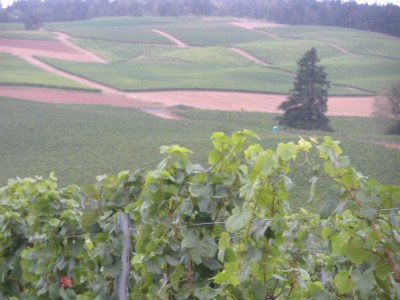 Top of the hill at 500′ through the vines.
On any given Sunday in September or October, I may wake to a rainbow balancing brightly in the western sky, each end seeming to nestle in the fir tree forests on the north and south sides over several hundred acres of Pinot Noir, Pinot Gris, Chardonnay and Riesling, just out my bedroom window.
Like this Sunday, where I am found snuggling in the goose down with my love just before he gets up to prepare our morning latte, which he does for me every day, not just today.   Once all cozied up back in our blue heaven, rainbow fading now, we tune into our ritual series recording of "Sunday Morning", and sip and savor with almost an overload of visual and aromatic stimuli.
The window is open and my favorite quintet is playing their morning laying song. 
This is great news, as the Ameraucana hens who give us fabulously gorgeous, blue-green eggs,  have begun molting and not laying as often these days.  Which means I can't bake whatever I wish or make fresh homemade pasta when the mood strikes, so I'm loving the chorus.
Giggles and gaffaws from the kidlins' in the living room blend in perfectly with the hens, breaking the sounds of silence, busting it up into joy that makes me and my husband laugh out loud and clink our coffee mugs in a toast to Sunday.
We're about three weeks out from the grape harvest here in Willamette Valley, and today, instead of driving into the winery to work in the lab, where I run analysis to track Ph, SO2, TA and Alcohol of wines in tanks and barrels from last year and the year before's harvest,  I am on "bird patrol" on the ATV in the vineyard on the property where we live.
For now, a vigilant motorized presence is all that will be required to "shoo" the starlings, robins and other grape munching feathered friends away.  So, after finishing my second cuppa, I suit up in rain gear and boots, grab my baseball bat, and hop on the zippy vineyard vehicle to begin this vintage's patrol.
OH. SUCH. A. RUSH!
Out here by myself zooming around in the cool damp morning with crazy-beautiful cloud formations sure to bring more rain, making it seem (for now) even more awesome to be doing this "work".  Up and down the rows I charge, covering 200 acres with breath-taking vistas of the surrounding, neighboring vineyards' 300 plus acres laid out right across from the property I am cruising around.
Truly, it all takes my breath, until I holler "WOW!" from the top of the hill where I find my words as well what makes me tick.
This is my extreme sport.
I am alone in the semi-wilds of the western United States of the country, situated at the base of the Pacific Coast Mountain Range where I choose to live and make my home and my Dream Life.
The smells of country morning, and what I believe to be a most universal understanding of the aroma of the very first rain of autumn wash over me and I stop and turn off the engine.  I close my eyes, lay down the baseball bat and become completely present in this place in time.
I inhale.  I exhale.  I AM Grateful.
My idea of perfection in life comes first with the recognition of the importance that natural beauty exists every where and every time I notice it.  When I "stop to smell the roses" as it's said,  then I honor my blessed life.  I am part of nature, so I MUST be surrounded by it. My desire is to be part of something wild and unruly, exciting, unpredictable and at it's base unconquerable.  Sunday's like this, and any time I can feel the way being outside makes me feel–I'M SOOOO IN!
Living my dream life comes with a price. 
I have learned and continue to learn, that the excitement and unpredictability I crave, sometimes comes in the form of the wild and unruly–literally.  While back in my kitchen fixing Sunday brunch for my family, my husband, and winemaker, Bryan took his shift on bird patrol.
He takes his grandfather's shotgun on patrol because he travels along the creek and the acres of thicket and forest that are a part of the vineyard, that at this time and in this economy, are just too cost prohibitive to consider clearing, prepping and planting to vineyards.
While the children and I love to hike all over this property, we won't go in certain places without Bryan, baseball bats, long branches and always, always, our "thinking caps" on tightly, because of the wild things we might encounter.
Over our brunch of Mama's version of biscuits and gravy:  Whole grain toasted English muffin topped with sauteed garden (mine) veg., spinach and roasted red pepper turkey sausage, sausage gravy and a freshly poached egg, Bryan shares his reason for firing grandfather's shotgun.
It wasn't the magnificent six point buck that  charged up to him, stopped short by the deer fence bordering the vineyard.  It wasn't the large coyote we saw traipsing through the vines early yesterday morning.  Bryan fired the weapon not to kill, but to spook, the bobcat slinking along side him until the cat stopped to turn and stare him down from a distance of 7 rows away, completely unaffected by my husband's presence.
We don't think the bobcat was stalking the man, but he wasn't moving away from him either so a shot was fired safely and loudly near enough to the critter to scare it off.
Steering clear of the not-so-safe zones was how I got along on my turns until the sun began to set on Sunday. 
The wildlife I came across on my adventure were all of the expected birds, including some beautiful dove and quail families, and turkey vultures circling over the decomposing carcass of an opossum. (That's what that smell was! Ugh.)
After I step off of the ATV and before I shed my wet clothing and muddy boots I catch a glimpse of myself in the back of the mini-van window and wonder, "What is that Medusa-like mass of insanity attached to my head?!?!" 
My children see me before I can put my rain hood up and howl with laughter over my crazy coif, "Daddy you gotta see this!!!  Look at mom's hair, hurry, hurry!"   
To which I respond by grabbing the square shovel, gracefully march inside the hen house and scoop some poop out to the waiting wheel barrow to be mixed in with the compost heap I have been building for three years.  I take a beak count, whisper "good night", to the ladies all perched up on their roosting spot, close the doors, and again sigh in gratitude.
Living this Sunday, fully, with my family,  in itself, was my reward.  Icing on the cake?
Bryan made roast leg of lamb with rosemary and more veg. from our garden, greeted me at the back door with a glass of his delicious Pinot Noir, took me in his arms (crazy hair and all), lifted me off the ground and planted one on my lips.
Just almost… but not enough… to make this heart faint.
Shellie