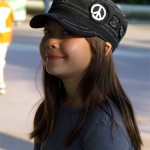 It's all my daughter's fault. The nine year old this time, not the teenager. You know she did it on purpose. This happens all the time. You give and give to your children or family, feeding them, caring for their welfare, making sure they're happy, buying them an M&M candy machine for a souvenir from New York, and what do you get back?
Attitude, complaining, whining, asking for everything, wondering why there isn't any M&M's in the machine you just got them, and begging to go get some to fill it up. Of course you want  to make them happy even if you know it's bad or wrong. So you give in.
It's worth it right? The little moment of joy you see on their faces, (you know, the two seconds right before they move on to the next thing), as they get what they want, not thinking about anything but themselves, enjoying their little M&M machine filled with candy that doesn't even require money to get it out. And then what do they do?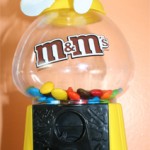 They go to Disneyland for a whole week, leaving behind their little M&M treasure filled to the top with beautiful colorful jewels. How selfish can they be? Don't they know what that does to people? You know the whole time they're away, they don't even think twice about it. YOU have to care for it, think about it all day, and play games with it like Hide-N-Seek (of course you beat the stupid thing every time). It calls to you all day, never leaves you alone.
I got my daughter back good though. There are M&M's no more.
Till next time,
Kim.

(Kim has already accomplished her first big dream by traveling to New York with her teenage daughter June of 2009. She lost 20 pounds and overcame her intense dislike (do we say fear?) of flying to accomplish that dream. She rotated off the blog in February 2010, but still hangs out with 8 Women Dream.  You can find her in the comments section)