Welcome to the second installment of my "How to live the dream" series. Last week I brought you into the lives of my friends, BodesWell, on their epic journey across the world in a VW bus. If you were inspired, but not quite in a position to leave the office or house behind, then this post is for you. You can travel the world and keep your day job.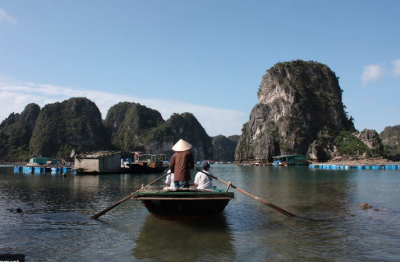 Vietnam on my friend's recent extended vacation. Photo:Â OftenbyLand
Here's the question I will answer for you today:
I promise this is possible and not another lofty travel feature written by someone who actually gets paid to country hop for a living. This is also for the real 9-5ers of the world who still haven't figured out Four-Hour Work Week.
Psst! If you are curious about finding a job to fulfill your wanderlust, check out these top 7 travel jobs:
Today's question – how can I travel the world with a full-time job? – is real, and entirely possible. How do I know? My friend and former co-worker, Megan, recently returned from living that dream–an extended vacation with her boyfriend in Southeast Asia for six weeks. Amazing.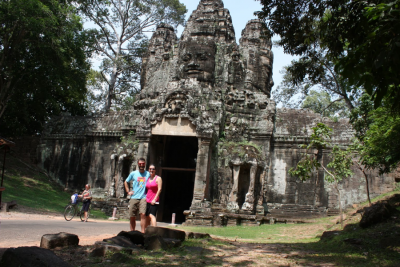 Megan and Ralph at the Victory Gate in Angkor Thom. Photo: OftenbyLand
Megan and Ralph went to Bali, Vietnam, China, Thailand and Cambodia and safely returned to steady paychecks after six weeks in the world. The good news? Â You can too. In fact, Megan hopes her story inspires more women to take time off to have meaningful fun.
You don't have to have a million vacation days or dollars saved up to do this, you just have to say, "yes."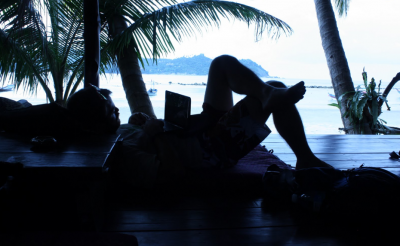 Reading on a Thai beach. Photo:Â OftenbyLand
Ao Thong Nai Pan Yai beach Photo:Â OftenbyLand
Before Megan set-up an out-of-office auto reply to answer 30 work days worth of e-mails, she shared the steps of how she got her boss to agree to her extended vacation.
A pre-trip excerpt from her blog, Ofter by Land, "Just Ask":
"I only studied improv for one semester in college, but I carry with me two valuable lessons from those Friday night rehearsals… the first is to always say "YES, and…" because that's the only way to move a scene forward, to make it work. True for life, as well. The second isn't an improv maxim, but logistically can provide more concrete results on the day-to-day; Fairfield's Director at the time, Heather Parody, told us "you won't get what you need unless you ask for it."
And you know when a little nugget of advice plants its seed? That's what happened.
Six and a half years later I sat down with my boss at work and asked for what I needed: "Can I have six weeks off next spring to go travel?" Without hesitation he shot back "Absolutely, fully support it."
BOOYAH! I did not think it could be that easy. All that nervousness and held-back hope… and he said YES!
At the time Ralph and I were planning to head to Buenos Aires, rent an apartment and take tango and Spanish lessons, como muy romantico, no? Alas, the major dictator of all budget travel ruled: my financial resources would not cover that destination. No worries, though, there are 5 entire continents (count 'em) left for me to explore. This time we're heading to Southeast Asia, where the sun is hot, food is on the street and temples & beaches are bumpin'.
For those of you who are ready to Google "how to ask your boss for time off," let me give you a few tips to get started:
1. Request a copy of your employee handbook and read through the section on leave. I was surprised to find my company had a policy about unpaid leave (did I mention these 6 weeks off will be unpaid?) that was unrelated to medical and family leave. It should include all the details you need to know on how much time is allowed, what your medical insurance looks like during your time off and also if your job is guaranteed or not upon your return.

2. Soft-sound your HR contact before reaching out to your manager. In my case, my HR manager was able to tell me that people request leave all the time (just not in my particular office) and that she fully supported the adventure. But in the end, it was up to my boss to approve.

3. Prepare "The Ask" for your boss. Make it easy for him or her to say YES. Ask as early as possible and give an outline of a plan for coverage while you're out. I asked about six months ahead of when I wanted to take my trip and there is ample time to prepare my work to be transitioned to other team members. Then it's the fun part of the conversation — talking about the trip. Your boss is a big reason you'll be taking that longer-term trip and if they said yes then they will likely also be excited for you… share your enthusiasm, joy and appreciation.

Now that I've secured all approvals, it's so fun to talk with my co-workers about my upcoming journey: getting tips, hearing stories and connecting. Which is bottom line what makes traveling so enjoyable and satisfying in the first place.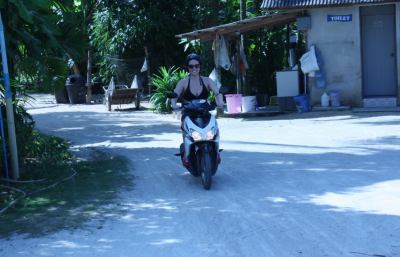 Megan on a Moped in Thailand. Photo:Â OftenbyLand
In three steps, you can be closer to a six-week vacation than you realize. So now that you know a real-life 9-5er can do this, what are you waiting for?!
Where will you go when you leave work to travel the world? What meaningful fun awaits you in the world?
Katie