Wow. I am sitting here at 11:00 Sunday night after coming home from my daughter's two-day volleyball tournament 2 hours away from here, and remembering that I have a blog post to write!
Two days of sitting and watching and waiting and sitting and watching and waiting.
Don't get me wrong. I love to watch her play. . . but two whole days?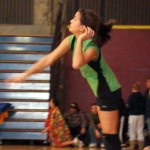 My husband gets to do the next tournament.
Now I have to think about me and my plans for the week.
I am also recovering from this nasty cold that Catherine has, but I'm going to try to walk tomorrow and at least 3 times this week. I'm going back to Trader Joe's for some good food, lots of veggies and fruit and grains.
I'm still working on the job situation, sending out resumes.
Other than that, I'm beat and I'm going to bed!
Till next week,
Kim
(Kim has already accomplished her first big dream by traveling to New York with her teenage daughter June of 2009. She lost 20 pounds and overcame her intense dislike (do we say fear?) of flying to accomplish that dream. She rotated off the blog in February 2010, but still hangs out with 8 Women Dream.  You can find her in the comments section)