Former Top Chef Contestant Andrea Beaman dishes her recipe for success to 8 Women Dream. Learn how she followed her calling from MTV to holistic health coach, self-published author, natural foods chef, teacher and television host.
-An "incurable" thyroid disease cured with natural foods regime
-The passion to educate people about where food comes from and how it affects the body
-165 rejected book proposals before three self-published books
-One spot on Top Chef Season One
-Two TV shows–"Wise Up" and "Fed Up"–on Veria, a health and wellness network
Mix ingredients together in a limitless-size bowl. Reduce the "negative voice" in the back of your head by drowning it with positive actions. Enjoy with a side of self care and self love.
Serves one ambitious person, but can be shared with the world.
Now that Andrea's perfected her recipe for success, she continues to create new episodes of Fed Up, write books (her 3rd one just came out) and more.
I'm still counseling clients. I'm still teaching classes. I'm still doing seminars. That's the stuff that really fuels me. That's the stuff I am really passionate about. I know as long as I keep doing that stuff and I focus on educating, then the world will keep opening up to me.
In this interview, I explore how the world has opened up to Andrea and how she dealt when it didn't.
When did you know you wanted to work with people and their health?
I had no desire to do any type of teaching or cooking. Those were the furthest things from my mind. Healing my thyroid disease was the catalyst for me. That was really an eye opener. It was like, "Holy cow! You have to teach people that there is another way."
It wasn't the first step in my process. The first step was when my mother was diagnosed with cancer for the 2nd time. She had a radical mastectomy in the '80s where they took off her breast and the lymph nodes and everything else on practically half of her body. The breast cancer came back and again, did radiation, chemotherapy and all that stuff. Then my dad read an article about macrobiotics, and we tried macrobiotics after all the chemotherapy and radiation.
I noticed something in my mother's health and in my own health when I started eating natural foods. My skin started to change. My system and my body started to work better. I had more energy.
After my mom died, there was no way, unfortunately, that we could bring her back, but it was a huge, huge lesson for me. It was like a little seed was planted in my mind, that when I get sick, and this is America and everybody's sick, I'm going to go alternative first, food therapy, alternative therapy, and then modern medicine last, if at all. That was my first step with health and healing. Then, when I tried it on myself when I got my hypothyrodism, my goiter and they were recommending radioactive iodine and synthroid for the rest of my life. That was when that seed that was planted long ago when my mom died, that was when that seed sprouted and started to grow. That's when I thought, "I tried it now for me. I healed myself. Ok, I have to share this with other people."
I had this internal drive of passion that was bubbling inside of me, "Wow, if I can heal myself, then anyone can heal themselves."
Trust me. I was one of the most unhealthy people I know–diet soda all day long, chemicals in my food, drinking, drugging, I mean, you name it! It was just a crazy, crazy lifestyle. I started to get this inclining inside of me–"If you can do this, anyone can do it and you have to share it."
I know you worked at MTV while you were training to become a health coach at Institute for Integrative Nutrition. How long did it take for you to transform your career towards health?
When I was attending the Institute for Integrative Nutrition, I graduated in May. I just looked at my certificate–May 16, 1999. I didn't quit my job at MTV until August or September of that same year. I just couldn't leave; I was scared to death that I was going to be homeless and I'm not going to have any money. I mean this was a steady paycheck I was getting every week. I was like, "I'm not going to have money. I'm not going to be able to support myself. How could I just quit my job?"
I was so fearful.
Thank god I sat across from a total stranger at a local Starbucks on 15th street down on Union Square.
I was sitting there with all this on my mind–"How the hell am I going to quit my job? How am I going to do this–this thing that's calling to me to teach? Who am I to do any of this?"
This stranger looked at me and said, "What the heck is going on with you?"
And then I blurted out all of this stuff–"I can't quit my job, but I gotta teach people!"

He simply wrote down on the Starbucks napkin the words:
"I am safe in the universe and all life loves and supports me."

By a woman named Louise Hay.
He said, "Just say this to yourself any time that voice comes up and says, 'You can't do it!' or 'You're too small!' or 'You're not going to make any money!' or 'You're gonna die!'"
"Just say, 'I am safe in the universe and all life loves and supports me.'"
And I did. I said it every single day. I walked back and forth to work and anytime that little voice came up and said, "You can't do it," I would say it again and again and again and again, like a crazy person.
In my mind, I felt like a robot trying to squash that little voice inside me that made so much impact. The little voice that wanted to keep me down and hold me back. It wasn't until I finally got it, like one day I realized that, oh my god, I was safe in the universe and that all life loves and supports me.
The next day I quit my job. It's not like I quit my job and money started rolling in; that's not reality. I quit my job knowing that I was safe in the universe and that what I needed was going to be given to me.
That's exactly what happened, but trust me, there were months where I was scrapping by on literally dollars. I'd start the month with $1,600 dollars in my bank account and I'd end the month with $1,599 in my account. I would make exactly what I had spent. It was crazy, but anytime I was worried about money, I would keep telling myself that I was safe in the universe and all life loves and supports me. I just kept moving forward. That was 1999 and now it's 2011. That's twelve years.
I was just looking over at my boyfriend and I said, "I totally love my life!" I'm self-employed. I have a job that I love. I love doing this. I just feel so blessed.
What made you audition for Top Chef?
It's interesting because when I started teaching my cooking classes, and I thought that I had to teach more people than the 15 people in my living room, and the way to do that is through television. I told one of my friends that I had to teach cooking classes on television about how food is healing because there is nothing on TV that's like that and I think people would love it.
I sent in a couple of proposals to Food Network and they really kicked me to the curb. They told me that no one wants to know what food does to the body, they just want to know how to cook it. I just kept moving forward and teaching classes and writing books.
I got a random e-mail from my friend Julie out in California. She told me there was a show looking for chefs and that she thought I should try out for it. And that little tiny voice, the one I had to squash and keep continuing to squash, it told me, "You can't try out for a chef show, you're not a professionally trained chef." And my other voice said, "Absolutely! Go! Send in your resume and do what you got to do."
I sent them a link to my Web site and they called me the next day. They asked to come in for an interview.
On Top Chef, I never strayed from my core values or beliefs. The prize was $100,000 to make the most delicious food. When I was there, I still wanted to teach people, and I did! We'd have the judges there and I'd be teaching them about food. We'd go shopping for food and I'd tell them I couldn't buy this food, I couldn't serve it to people, it has chemicals in it. I can't purchase these animal proteins, they haven't been naturally raised.
For me, making a stink about the things I believed in when I was on Top Chef and really adhering to my goals really brought me to "Fed Up" and "Wise Up," my two shows. I stuck to my guns, what I believed in and what was calling to me. I'm so grateful that I took that leap and I stepped out of my comfort zone saying, "Oh, yeah, I'll try out for Top Chef." Back then it wasn't Top Chef. It was just a show looking for chefs. Nobody had any idea how big it was going to be.
What was it like publicly pursuing a dream?
It's interesting because being a chef and teaching people and educating people was never my choice. It was never my dream.
I was never a child sitting at home thinking that I can't wait to cook for people or educate people–absolutely not. It was the furthest thing from my mind, so I can't say that it is a dream, but what I can say is that it is a calling.
It's almost as if the universe is calling me in that direction and I have to follow it, because this was the furthest thing from what I wanted to do with my life. To cook for people, to teach people, to educate people was not on my agenda at all. My agenda was to become a rockstar, be a radio disc jockey, play rock'n'roll–those were my dreams as a child. I still can't believe it.
So you heard the calling and that's what you went for in your life …
Literally, it was calling to me all the time. And it started with taking care of myself to the tenth degree. It's self care, self love and becoming aware and listening. When I got into this space of listening and hearing, that's when I heard this … and the only thing I can say is call it a voice. It said, "You have to teach people. You have to share this knowledge. You have to show people." I would hear it all the time and think what the hell is this voice? This is not Robert Plant!
Check back later today for part two of my interview. I'll go further into Andrea's recipe for success–her biggest challenges, advice for women and what she dreams about now.
TGIM,
Katie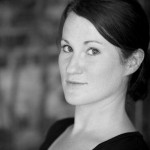 Katie dreams to complete her career transformation from corporate copywriter to world traveling health coach. In one year she'll document the launch of her wellness travel business, Real World Wellness, on 8 Women Dream. Follow her progress–or procrastinations–every Monday.