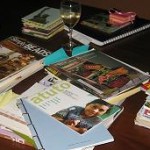 Just being open to the idea of change is a big step for many.
For me, once I formulated the idea of my dream I decided to remove my focus from any major thought which brings up fear, worry, concern, anxiety, stress etc and keep it off by flipping my brain chatter to something I am grateful about.
I am often amused by the imaginary fences we build around our hearts.  But then I'm tired of that old dog pen.  There is much love in my life, so it's easy for me to be grateful.
Especially from my son, Brian.
Gratitude sets the tone for my thoughts and allows me the clarity to come up with simple ideas about my dream. It puts me in a place where I can allow myself the space to be open to my dream without fear tapping me on the shoulder.
The next step for me is believing my dream is attainable.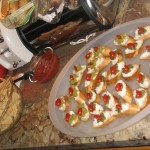 I must believe that I can achieve it in order to avoid any disappointment and loss of motivation because I set up an unrealistic dream.
This is where the exercise for remembering the things you loved doing as a kid brings a clarity about what fulfills our soul. If we set our expectations too high for ourselves (at an unreasonable level beyond where we see ourselves) based on something that doesn't bring us joy, then we set ourselves up for failure. Some even call this the "peril of perfectionism".
One way to avoid a possible crash and burn is to focus on the process rather than the destination.
If we only focus on being the perfect [insert your dream here], then we are focusing on the end-result and most likely losing all enjoyment of the activities that go into being [insert your dream here].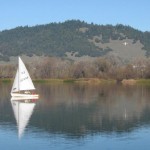 This blog is our attempt to enjoy the process, and have some fun along the way. ARE WE HAVING ANY FUN YET? But who knows, maybe the people reading this will think "Wow, if that nutty redhead and her group did that, then [insert your dream here] should be a walk in the park for me!" 
My first dream assignment this week is to attend a Toastmasters Meeting before the next 8 Women Dream gathering in February.
As it turns out, there's one at my church every Tuesday from 11:30 to 1:00.
I got up this morning and went for a three mile hike at Annadel State Park, which is something I used to do every day, then stopped.
It was so beautiful. I wondered why I let this habit go.
Dreaming has it's benefits.
Keep on dreaming –
Catherine