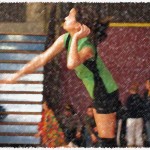 Saturday I enjoyed a fun day at my daughter's volleyball tournament. Her team is finally coming together and they won first place. It was exciting to watch. I love it when we see our time (and parenting money) pay off.  It was the most excitement I've  felt in months (pretty sad, I know).  Isn't this why we have kids?  Just to entertain us? I definitely need to get out more.  ;-)
It's been an OK week with my health.  I didn't always eat right and take care of myself.  However, I am doing research on hotels and flights for New York. My daughter wants to go during spring break (this year) like we originally planned, and it seems to be cheaper than October, but I don't know.
It's so soon.
Everyone feels the prices will keep dropping and I'll get better deals later on. However, October is the high season In New York. The weather will be better in October – more rainy in April.  More crowded in October – spring break brings crowds too.  My daughter won't miss any school in April, but who cares about that?
I'll be thinner in October.
More research to do …Â  see you next Monday.
Kim.
(Kim has already accomplished her first big dream by traveling to New York with her teenage daughter June of 2009. She lost 20 pounds and overcame her intense dislike (do we say fear?) of flying to accomplish that dream. She rotated off the blog in February 2010, but still hangs out with 8 Women Dream.  You can find her in the comments section)