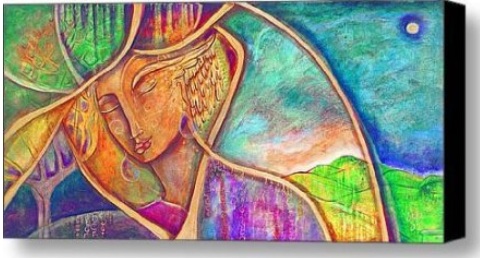 I told myself that when 8 Women Dream reached a certain point in traffic visits and positive responses to the content I'd push 8 Women Dream to yet another level.
OK, so now it's that time … but to be honest with you I haven't exactly been excited about the prospect of pinning my ears back (even more) and working on a bigger business plan for 8 Women Dream. For some time now I've been thinking that I feel this way because I'm just dog-tired from spending 4 years building a popular blog while being a full-time freelance writer and working for a publishing company part-time while raising a teenage son (and his father) and taking care of an aging parent … and just maybe it's all kicking my ass.
Do I really want to push myself even more?
Then I read the articles written by the other bloggers here — their gut-wrenching, beautiful stories about their dreams and I feel this angst and pull to my heart.  They deserve to be known for what they do. They too deserve to make an excellent living at their dreams. I mean, this is the reason why we are pursuing our passions, isn't it? Don't we want to make the kind of money that allows us to "play at" our passions full-time– full-throttle? These thoughts consume me as I fret over how I am going to make it all work and then I think about parts of running a business that I don't like. AT. ALL.
Where's my wine?
On the flip-side of this I've also seen women attempt to run a successful businesses by lighting candles and dancing naked around their computer when the moon is full. I know this is no way to run a business. It's not even a great way to improve your sex life. There has to be a balance between the creative and the serious (I mean, look at Pixar's business model!). Who could I trust to help me? What if I don't feel like spending the money to expand? What is wrong with me? Do all entrepreneurs go through this?
Welcome to my redhead mind over the last two months.
In my offline life, I have the pleasure of spending time with Dawson Church, PhD, helping him with his media and creative projects. I never talk about 8 Women Dream when we are together.  He's just as bad of a workaholic as I am, so we are always focusing on how much we can possibly get done in a four hour period.  He's rather wonderful to me — he lets me get mad at him while still doing certain tasks his way. It's a compromise… I think.
Christmas was crazy this year and before I knew it Dawson was off on a lecture tour. He left behind a Christmas bag full of goodies that I found nestled in an area where I usually sit to work. I actually kicked the bag with my foot and picked it up thinking it was left by his family for him. I glanced at the card and –lo and behold — there was my name neatly written in the middle. For some reason I didn't open the bag right away. I wanted to wait until I was alone in bed that night.  I spread the tissue-wrapped contents from the bag out before me on my bed. I have no clue as to why I wanted to open the gifts this way, but something told me that there was something special for me in that big, heavy gift bag.
I squeezed each of the wrapped objects and ended up opening the heaviest-one first. It turned out to be this 2 inch, ring-bound book/workbook called, "The Heart of the Visionary" by Shiloh Sophia McCloud. I was instantly drawn to the cover — sprinkled with one of my most favorite colors (teal) along with Heather's (my long-time friend and writer here on 8WD) favorite color (orange). It was so heavy that it fell on to my thighs as I pulled off the wrapping.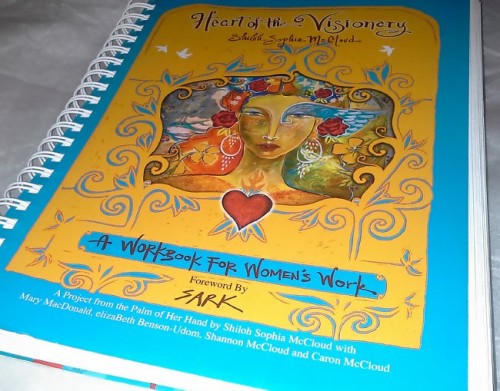 As it turns out, The Heart of the Visionary is a "workbook for women's work." And to be honest at first I thought, "Oh God this is going to be one of those books that is going to ask me to dance around my computer naked…" so I set it aside to look at his other gifts, but I kept staring at that cover. I fell asleep staring at that cover. The following day my mother stayed with me and upon seeing the book on a table, commented, "That is one beautiful book!" It was like she too was nudging me to pick it up.
So finally when Christmas died down a bit and I had another moment to breathe, I began to read the book.
And I actually love it.  It's exactly the advice I was looking for 8 Women Dream.
It's a how to build a financially successful creative business for creative women, combining the right amount of serious planning with creativity.
How in the hell did Dawson know that this was exactly what I needed to plan my next year?
So drum-roll please …my 2013 plan for my posts and dream on 8 Women Dream will be talking all of you through this book/workbook with me (yes as I complete it too) so that you can be encouraged to work on your big dream too.  I encourage you to buy the book for yourself too (see bottom of this post)  — if you are any thing like me.
The chapters in The Heart of the Visionary are:
1. Invitation. Answer the call to explore your dreams.
2. Creation. Nurture your creativity.
3. Vision. The power of passion.
4. Abundance. Practicing gratitude and abundance.
5. Perspective. Being ourselves.
6. Wisdom. Seeking wise counsel.
7. Money. Learning about our relationship to money.
8. Market. Showing up and sharing our work.
9. Business. Building structure.
10. Communication. Creating powerful results.
11. Wellness. Learning to care for ourselves. (The oh-holy-hell one)
12. Compassion. The power of caring.
13. Community. Gathering with the strength of the like-hearted.
And as you put together your New Years plan for next year while I create my plan for taking 8 Women Dream to the next big level, I'm going to start you (and me) with the "Go-girl, Go-action Plan Checklist" by Sherri Morris, a contributor to the book.
The Go-girl, Go-action Plan Checklist
1.  Decide on your business type and name.  Do research (this includes looking at URLs that are available) based on the design you have in mind:
2. Business Name:
3. Business slogan/motto/tagline:
4. Theme colors/symbol/image/brand:
5. Domain Name for your website:
5a. Email addresses:
5b. Grab social media sites in business name too (Facebook, Google Plus, Twitter, Pinterest, Blogger, Tumblr):
6. Get a business license/ File for a fictitious name or whatever is required in your location:
6a.  You may want to meet with an attorney or an accountant, or at least interview some to get an idea of what you will need.
7. Describe product or service:
8. Set up business checking account:
9. Get a resale license/sales tax permit if needed:
10. Decide on your permanent business address:
11. Business phone number:
12. Have professional business cards designed by a professional along with a logo for online and print:
13. Who can help you with what you are trying to accomplish:
14. Find a mentor, a team, and people (groups and organizations- both online and offline) who will inspire you and help you in business – ideas:
15. Network with other women entrepreneurs – ideas:
15a.  I will connect with (list women) by (set date):
16. Get funding – ideas:
16a.  What are your personal money sources?
17. Trademark your name/Copyright (Recommended but not required) and register a brand.
18. Set up a bookkeeping/record keeping system:
19. Plans for records:
20.  Make a list of what you need for your workspace:
21. Create a work schedule and a vision schedule – even if it's part-time:
22. Marketing actions:
22a.  Step 1:
22b.  Step 2:
22c.  Step 3:
23. Ways you can be paid (Paypal, credit cards, cash):
24. Website montitization goals:
25. What are your weaknesses and who can you contract with to do those tasks:
26. Who do you need to help you:
27. What resources do you need immediately:
28. What supplies do you need to deliver on what you offer:
29. What is YOUR title:
30. Describe what you do in 200 characters or less:
31. Action list – what next (as you move through items on this list, other things will come up and add them to your notes here to keep revising your action plans):
Review goals with dates, get supplies and stock – sufficient to get started but do not overstock, market, advertise or sell.  How do you initially want to launch your business?  If you have the funds, hire a marketing agency.  Buy insurance, damage or liability-determined by your type of business, establish working systems and keep a personal eye on quality control.  Work with a great tax accountant.
Now obviously, I have done quite a bit of what is listed here on this first checklist, but in case you are just beginning down the top blogging dream road, or whatever dream road you are on, I want to share what can help you plan your dream, or bring some structure back into your dream so that you can make it come true.
Do you feel yourself resisting anything that is mentioned on this list?  Don't worry, it's normal to find reasons why your dream might be too hard or beyond what you think you are capable of accomplishing.  I've been there too, hell, I still struggle with it, but for some crazy reason I just keep putting one foot in front of the other.  Now it's time to push myself even farther than I feel comfortable doing and I'll share it all with you over the next 12 months.
God I hate it when Dawson is right…
Do your dream homework and I'll see you next week.
Catherine
The author of The Heart of the Visionary is Shiloh Sophia McCloud. She is a visionary artist, author and teacher as well as a revolutionary entrepreneur and publisher.
Shiloh has owned galleries for over twelve years, and made over two million dollars in the sales of her art.
Her original paintings are internationally collected and her product line is represented at galleries and fine shops throughout the United States. In addition to an extensive line of original sacred art and prints.
Shiloh has published over seven books as well as creativity journals, visionary cards and offerings of her writings.
Thousands of women have deepened in their creative practice through Shiloh's illustrated Color of Woman journals and by participating in her revolutionary creativity workshops and mentorship. 
One of her pieces of art is featured at the top of this page.
*****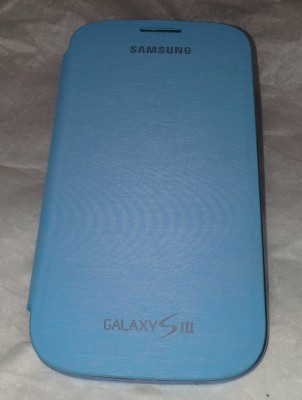 A special shout out to Samsung for sending me a Galaxy phone to use and a tablet to test.  The phone took the photo of the book you see featured above in this post.  I will be writing about these two products and why they should be a part of your creative business plan. I will discuss them further in January. I am absolutely in love with these products!
We will also be offering a Samsung phone giveaway to an 8 Women Dream reader…