Today's motivational picture quote is by Tanner Christensen of Creative Something at creativesomething.net where he shares creative ideas and inspiration.
His motivational picture quote is called, "Creativity Takes No Excuses" and we've also thrown in our own 8 Women Dream version called, "Dreaming Takes No Excuses."
Dreaming requires creativity too — that's why it can sometimes be difficult to motivate yourself to work on your big dream.
Working on a dream requires that you transcend traditional ideas, rules, patterns, and relationships to create a meaningful new life. You must fight against natural urges to stagnate, resist, quit, give-up, or never start.
Your dream should be something you cannot imagine ignoring, so you are called to work on it  — then be brave enough to take it to the next level, then the next … and the next… this is why we often come up with "excuses" for not working on our dreams.
The levels can be scary and rock our world.
CREATIVITY TAKES NO EXCUSES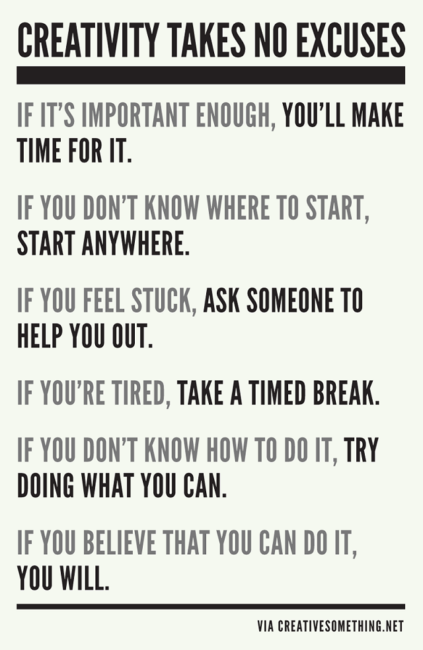 What would your dream version of this "no excuses" image look like?
We've created one about dreaming to help you think about all the excuses you might be saying to yourself about why your dream isn't working, or why you can't work on it today.
DREAMING TAKES NO EXCUSES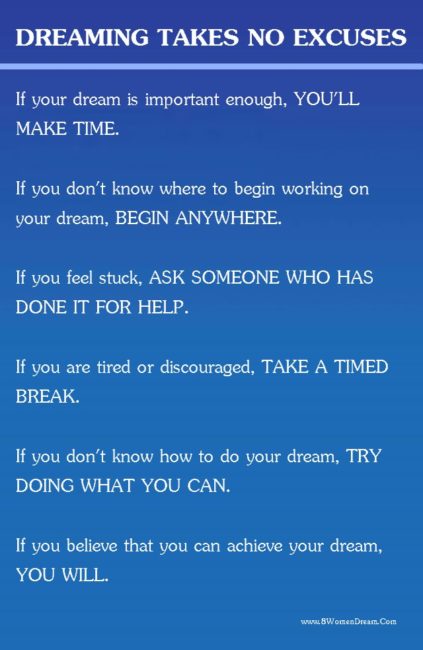 How important is your dream to you?
Catherine