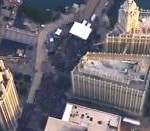 While resting and recuperating from this cold that has kicked several of the 8 Women Dream's proverbial butts, I had the opportunity to get plenty of sleep, look at where I want to be at the end of 2010,  and catch-up on a bit of Oprah.
Lucky for me, she provided me with my video of the week.
For this week's motivational video I invite you to watch the following anytime you need motivation to kick off your dreams in 2010.
Black Eyed Peas I got a feeling on Oprah Chicago Flashmob 24th —
I hope this provide you with the inspiration to do something for your dream today.
Keep on dreaming!
Catherine