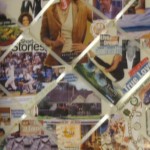 It is written that Buddha once said, "We are what we think. All that we are arises with our thoughts. With our thoughts we make the world."
If this is the case then I just have one question:Â  why in the hell did I visualize a big butt?
It is said that we hold the key to our own success and failures in the way that we think.  We are told that our minds are powerful tools in achieving what our hearts desire.  Many great leaders say it is so, which leads me back to my first question again:
EXACTLY when was I visualizing particular things in my life these days and why in the hell wasn't I more careful?
Change your thoughts; change your life.
Bite me.
I have started walking an average of 10.5 miles a week.  I didn't necessarily change my thinking to achieve this goal, I just laid down a gauntlet that I would be hiking Spring Lake on very specific days and times then invited anyone in the group to join me.
Because I set this up – it forces me to be there whether anyone shows up or not.
I reached the point where I felt I had to do something to move myself along this exercise and get healthy goal of mine.
Author and motivational speaker John Assaraf (there's that ass thing again) suggests we try changing our thoughts for 30 days – much like a diet for our minds – to see real effective change in our lives.
He suggests –

We become very clear about what it is we wish to achieve – crystal clear as a matter of fact – by writing it down and the use of vision boards.
We should spend quiet time three times

every

day focusing on our vision.
We should be still with our vision in the morning when we are first awake – at midday – then at night before we fall asleep.  He recommends we do this in a meditative manner.
Here's a video which goes into greater detail about how he gets a clear vision of his dreams –
I'll leave you with a quote from John Assaraf –
"I just do not hang around anybody that I don't want to be with. Period. For me, that's been a blessing, and I can stay positive. I hang around people who are happy, who are growing, who want to learn, who don't mind saying sorry or thank you  and are having a fun time."
I already made that change this year – what about you?
Catherine