Take the first ever 8 Women Dream Poll at the bottom of this post!
I've been told that building a website worth other people's time and money, while creating a successful business model around it, means that I will be working harder and longer than I ever thought possible.
I was also told that I need to focus on more than just the blog itself.
As the creator of a blog, it is okay to focus on the blog to the point of obsession. This is normal behavior.
But if I focus only on the blog, instead of the overall business of 8 Women Dream, I then risk seeing this dream of mine never getting off the ground, and I wouldn't be helping any of the other dreamers either.
The creation and maintenance of this blog is only one piece of the puzzle.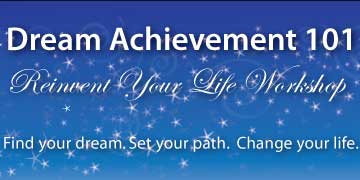 There is the marketing, which needs to happen both on and offline, as well as the need to improve and deepen our relationships with our readers, who may also be potential future buyers of any products we create.
I'm already working in the evenings, but I've started working every Saturday with Heather, while spending my Sundays writing posts, researching marketing, design and numbers.
To quote Bob Walsh –
" In some ways, building a startup is the reverse of nuclear fission. Instead of converting some tiny amount of matter into an explosive amount of energy, you're going to convert a huge amount of your personal energy into the actual thing."
Which means I probably sit at this computer more than is healthy.
Yesterday Heather and I worked on setting up the first 8 Women Dream offline marketing event called, Dream Achievement 101: Reinvent Your Life Workshop scheduled for Saturday May 1 in Santa Rosa California.
The workbook I am writing for this event will end up being my first ebook featured on the blog. I figure if I sleep only three hours a day for the next month I should get it all done.
Will all this bring more readers to our blog? More fans on Facebook?
It's my plan.
While working on the offline marketing, I questioned the need to change the design of this blog, and open this website up to readers who want to share their dreams with us.
In an attempt to start a dialog with our readers and the general public at large, I've decided to run a poll to get  feedback.
If I build it, will you come?
Here's the first ever 8 Women Dream Poll
(polls)

I'd love to know your thoughts, and I appreciate any feedback you would like to give.
In the meantime I'll be over here icing my knees from sitting too much.
Keep on dreaming –
Catherine
(Catherine's dream is to be a motivator and published writer. She is testing her theories on motivation with this blog and the seven other women who have volunteered to be a part of her dream project. Catherine also writes about her life as a mom at the blog A Week In The Life Of A Redhead. Someday, she would also like to be invited to speak at TED as the next Erma Bombeck Catherine usually writes the weekly motivation posts which are published late Sunday evenings for the following week)