I read somewhere that runners view running as a remedy.
They believe the psychological benefits of running far outweigh the physical demands. Running a marathon or footrace can be a challenge both mentally and physically.
Participating in an event like the San Francisco Bay to Breakers is not a normal thing to do (no f*ing kidding), and for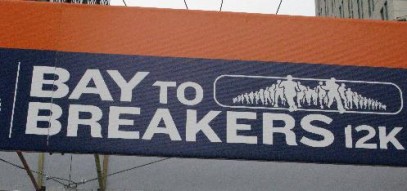 those of us who took on this risk to go 7.6 miles today, the consequence of that risk has turned out to be very rewarding.
Successful dream achievement requires we do something many people wish they could do but don't have the courage.
People who choose to take on their dreams regardless of the obstacles, show a certain measure of character strength many people only dream about (excuse the pun).
So today, four women and one husband power-walked the Bay To Breakers to honor Veronica's dream.
We all knew this day was coming, but many of us didn't train as much as we should have.
Last night as I drifted off to sleep, I wondered if I was going to be able to finish this commitment.
This was going to be the biggest test of my mental and physical endurance since I first got sick with Hashimotos Disease some years back. I wondered if I'd lost my mind.
Was it smart to push my body past the point of no return?
I decided to suspend my worries and resolve to do my best.
From the moment we stepped off our bus at the Bay 2 Breakers starting gate this morning and began experiencing the first round of flying tortillas, I knew this footrace was going to be like nothing I'd experienced since attending the Exotic Erotic Ball in my 20s.
In fact, much of it looked like the same Exotic Erotic Ball.
A play by play of today's events are on the 8WD Does Bay To Breakers page.
At about mile 5 my body and mind began to talk back at me.
Damn.
But instead of stopping, something funny happened. I began to look around for inspiration.
You didn't have to look far at the Bay To Breakers. Between the costumes and naked runners, there's plenty to make you smile.
Every time I thought of finding a chair to sit in, I found another group to look at, another costume to laugh at, or other people to commiserate with.
Each time I was able to subdue my mind and continue forward. I kept telling myself that I was going to finish the race, and the next thing I knew I was barefoot in the beer garden rubbing the bottom of my feet.
As exhausted as I am tonight (and this post may reflect this) something happened to me mentally because I finished the race.
I did something that I wasn't all together sure I could do at this stage in my life and I didn't listen to those voices in my head telling me to stop.
We calculated that we probably walked a total of 9 miles.
Holy crap!
Each time my body – or my mind wanted to give up today, I just turned my attention to something that made me smile and kept putting one foot in front of the other.
Before I knew it we had crossed the finish line.
Maybe that's the metaphor for dreaming.
Do the thing you think you cannot do until your cross the finish line.
Fellow dreamers, I love you but I've got to go to bed before my head passes out on this keyboard.
What challenges can you overcome this week if you just put one foot in front of the other and refuse to give up?
Keep dreaming –
Catherine
Catherine's dream is to be a motivator and published writer. She is testing her theories on motivation with this blog and the seven other women who have volunteered to be a part of her dream project. Catherine also writes about her life as a mom at the blog A Week In The Life Of A Redhead. Someday, she would also like to be invited to speak at TED as the next Erma Bombeck. Catherine posts Sunday nights.