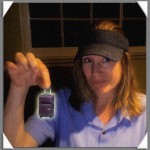 The last time we flew, we noticed that people were carrying their luggage on the plane. One carry-on and one extra tote bag or back pack. I thought that would be so much easier than going through baggage claim. So I've been researching the luggage to see what the size and weight has to be. That would be great if we didn't have to fuss with finding our luggage.
I found the size and borrowed it from my  mom. It's a lot smaller than I thought! I can bring about 2 pairs of pants and 4 shirts, if that! But I think I can make it work. We'll just have to do some laundry in the middle of the week. I tend to wear the same clothes over and over anyway, and we aren't really dressing up anywhere. Besides, the less we bring, the more we can buy there;) I was thinking of getting a big tote in New York and filling it up with clothes, and souvenirs for people. Going though baggage claim on the way back would be no big deal.
I lost another two pounds this week! People have been asking me if I'm going through a diet plan. I'm actually doing it on my own. I figure I have to learn how to eat right eventually! The basic eat right and exercise plan. Portion control is huge. Also, Saturday is my "eat what I want" day. It seems to be working. And move, move, move!
Happy Spring.
Kim
(Kim has already accomplished her first big dream by traveling to New York with her teenage daughter June of 2009. She lost 20 pounds and overcame her intense dislike (do we say fear?) of flying to accomplish that dream. She rotated off the blog in February 2010, but still hangs out with 8 Women Dream.  You can find her in the comments section)