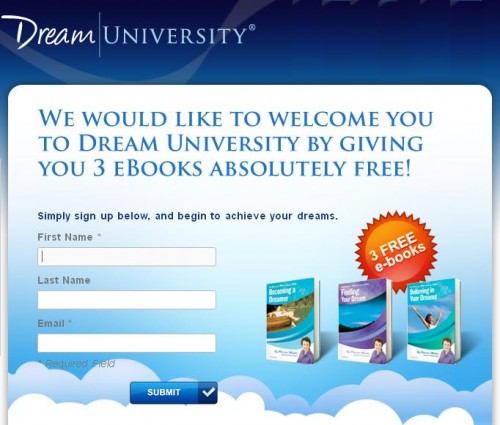 My big dream actually consists of two dreams that intertwine from time to time.
I have my dream to have a top blog on the Internet and I have my dream to help women believe that they deserve their dreams.
Some weeks these two dreams live separately and other weeks they mesh together. It's hard to be both an administrator for a large website and be an inspirational dream writer.
Each week, when it is my turn to write about dreaming, I pause and ask myself, "Do I write about dream achievement, or do I write about what it's like to run a top blog publication?"
This week was especially difficult since I had the pleasure of interviewing Marcia Wieder, best-selling author and CEO of Dream University, at the same time that I was working on changes to this site in support of Heather's upcoming 8WD event and DailyFeats dream challenge.
Not to mention I've been filling in on "travel Saturdays."
I am only sharing this because it is not uncommon for bloggers, especially dream bloggers like us, to sit down at the computer and wonder what we are going to write about this week.
What do I share about my dream progress?
Since interviewing Marcia Wieder was something on my dream bucket list and she has so much valuable information to offer dreamers, I think I should share her thoughts on dreaming for my post today.
She is, after all, one of the main people who started me dreaming again.
I am still transcribing our interview, and this post can serve as a launching point to my short series on dreaming with Marcia Wieder and Dream University.
Marcia and I agree on many things about the dream process, but there's one one main point about dreaming where we are one: you have to know yourself, or get to know yourself in order to successfully accomplish your dream.
To quote Marcia, dreaming requires that you ask, "Who are you on the inside? What is most important to you in life? Do you really know?

Our dreams are extensions of ourselves. In order to live a dream-come-true life, you have to invest time and effort in learning about yourself."
If you are not willing to invest the time and effort in self-discovery, you will not complete your dream. You will stop at the beginning, the middle, or just before success comes sweeping into your life. Knowing yourself and why you want the dream you want will save you from quitting and giving up.
Here's a story I'd like to share with you from a section of one of Marcia's e-books, "Finding Your Dream" (not to be confused with my e-book "Finding Your Dream" and no, I did not plan that) called, "Quality of Life" —
Living a dream-come-true life is more about creating a certain quality of life and less about finding a particular dream. But for many of us, this process often starts by discovering or accomplishing a special dream, such as establishing the relationship of our dreams or the career of our dreams.

When my friend Larry went off to Penn State, he was described as a "young genius," since in high school he was an honors student and a football star. It was shocking to us all, especially him, when he nearly flunked out during his first semester.

He dragged himself back into the architectural engineering program for as long as he could stand it, which wasn't very long. The truth was he was an artist, not an engineer.

He dreamed of being the next Frank Lloyd Wright, but family and friends from the small farm town where he grew up did not prize art. So he sold out on his dream by focusing more on the technical side as opposed to the artistic aspect of architecture, which he loved.

Finally, he just couldn't take it any longer. As Larry began to find himself, he also found the strength and courage to pursue his own dream. He reclaimed the artist that he is and now is living his dream as a successful designer.

It's useful to know what our personal and professional dreams are and to come to terms with what we want. However, keep in mind that ultimately what we are seeking is a new way of living. Although finding or making your dreams come true is wonderful, the essence of living a dream-come-true life requires going deeper.
Both Marcia and I have exercises to walk dreamers through the process of getting to know ourselves so that we don't "flunk out" in our first semester of dreaming.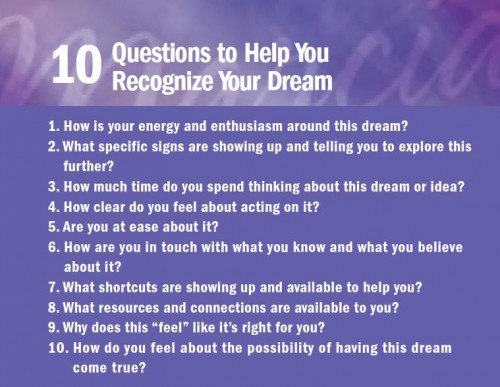 Marcia also has a simple 10 ways you can begin to recognize your dream.
They are —
1. Energy and enthusiasm = passion.
2. Signs are popping up all around you.
3. Thinking about it all the time.
4. Clarity and/or confusion. (And yes confusion can be a sign).
5. Ease and grace — it flows.
6. Knowing and trusting. You just know on some level.
7. Shortcuts appear.
8. Connections appear (hello Marcia!).
9. Just for you. Your life experiences make your dream a perfect fit.
10. Joy and abundance.
Is any of this ringing true for you?
If you are curious about reading more of what Marcia has to say in her e-book about finding your dream and making sure you are on the right path, she is offering our 8 Women Dream readers her 3 e-books on dreaming for FREE. They come in a pdf format, so you do not need a special online reader to enjoy them.
Go to dreamuniversity.com/gift to sign up to get these 3 fabulous books in your email.  Let them help you reaffirm your commitment to making this year the year you accomplish a dream.
Meanwhile, I'll be over here working on finishing my write up from my interview with Marcia to reveal more about her Million Dreams Campaign.
Be sure to check back with 8 Women Dream because there are more exciting things coming from Marcia Wieder — like an offer to attend her upcoming San Francisco live event for free.
It would be a great way for you to meet some of the women of 8 Women Dream there too.
Catherine
 Please share this exciting opportunity with your family and friends too!