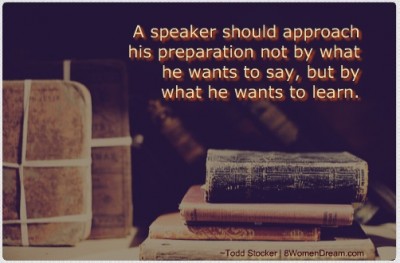 It's been a whirlwind of a week my dear dreamers.
First, my lovely mother came to visit me at my new place and then my daughter celebrated her 2nd birthday. It is true that children grow up too fast. It seems like just yesterday I was holding her in one arm rocking her to sleep, and now she can't wait to wiggle out of my grasp to go explore the latest thing that has caught her attention.
Running a business with a toddler underfoot has its challenges, but also has its rewards. She constantly reminds me to be more in the present moment and take awe at my surroundings. To my little girl, life is full of magic and possibilities. She is my inspiration.
I am lucky that I find inspiration in my daughter. You need all the inspiration you can get when you are working toward a big dream. I've been thinking about inspiration and where public speakers, like myself, can find inspiration when they need it. Because trust me, there will be times that you need it.
Walks in nature are good, journaling, listening to music, watching your favorite motivational speaker on YouTube, spending time with family that you love (thanks mom!), or reading some great books on the subject of motivational speaking.
While I return to my regular work routine, I want to leave you with some great books for inspiration.
8 Best Motivational Speaker Books
This fabulous FabJob book reveals how to get started and succeed in motivational speaking. The book offers how to: come up with topics, create titles, write speeches (or find a speechwriter), develop speaking skills, and be seen as an expert. You will also learn how to produce a demo tape and promotional materials.
This book covers a variety of professional speaking opportunities, including adult education.
You will learn how to get hired to speak for conferences and conventions, colleges, schools, seminar companies, corporations, non-profit organizations, and cruise ships. This book explains the best ways to approach employers, the easiest ways to break in, what fees to charge, and how to get jobs through speakers agencies. It also includes step-by-step instructions on how to put on a seminar, including how much to charge and how to get people to register.
This book contains many samples (contract, promotional materials, rate sheet, evaluation form, etc.) The samples are also included in a CD-ROM that comes with the book, so they can immediately be used by you. (Credit: Amazon)
Talk about motivation!
This wonderful book by Kent Gustavson is a collection of 101 inspiring stories from the most successful motivational speakers from around the world.
These top motivational speakers are from religious groups, corporations, clubs, convention centers, stadiums and classroom.
You can find inspiration when you open any page. The author, Kent Gustavson, a speaker himself, has won the Next Generation Indie Book Award and as a musician has released 14 critically acclaimed albums.
This is the type of book for motivational speakers when you need an emotional lift or an idea on how to tell a story to your audience.
Just reading an one of these stories featured in this book lifts your spirits and energizes you to sit down and write that speech, or tell a better story in a more inspirational way. (Credit: Amazon)
Talk about inspiration!
This New York TImes best-selling book, The Millionaire Messenger is written by the founder of Experts Academy, Brendon Burchard. This is the perfect book for when you are just beginning your public speaking journey and trying to find your niche. The book reveals how your life story and experience have greater importance and market value than you probably ever dreamed.
As Brendon points out, you are here to make a difference in this world. The best way to do that is to package your knowledge and advice (on any topic, in any industry) to help others succeed.
You can get paid for sharing your advice and how-to information (even if you don't want to be a public speaker to do this), and in the process you can build a lucrative business and a profoundly meaningful life.
The author discusses the "advice industry" and offers you a simple 10-step plan for making an impact and an income with what you know. The lessons you've learned in life and business are about to become your greatest asset—and your greatest legacy. (Credit: Amazon)
Talk about meaningful!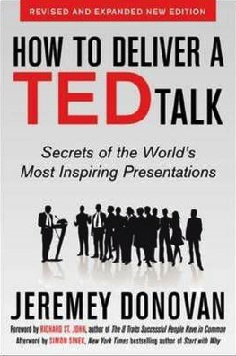 There are few speeches more inspirational than those given at TED.  This book challenges you to deliver the presentation of your life – and launch your career in the process. A nonprofit dedicated to ideas worth spreading, TED challenges the world's most fascinating thinkers and doers to give "the speech of their lives" in 18 minutes or less.
The more than 14,000 talks on TED.com have been viewed over 1 billion times and include those by such luminaries as Tony Robbins, Dan Pink, and Sheryl Sandberg.
With this book you can learn how to give a Ted-style talk to achieve your personal and business goals. How to Deliver a Ted Talk provides more than 100 tips – everything from opening with an explicit statement of audience benefits to framing your idea as an action-outcome response to a question worth asking.
Whether you're presenting to an audience of 1 or 1,000, this book is an indispensable resource for any public speaker.
"Not just for Ted talks, it's a great book for any presentation you have to make. If you want to deeply engage and impress your audience, this is a quick, informative, and brilliant guide." (Peter Bregman, Tedx talker and author of 18 Minutes). "Jeremey's advice was key to my successful Ted talk at TedMed." (Amanda Bennett, Pulitzer Prize-winning journalist and Executive Editor/Projects and Investigations for Bloomberg News). (Credit: Book Depository)
Talk about Noble!
A step-by-step handbook that teaches readers to find the extraordinary stories tucked deep within them to make a difference in the lives of others—and to get paid—as a motivational speaker
The Message of You begins with a simple premise – that your greatest speech already exists and that it has already been delivered in front of a live audience masterfully and powerfully by you. Best-selling author, Judy Carter sets out to prove that The Message of You is in the advice you give to your friends; in the lessons you teach your children; in the stories you tell your family.
It's expressed through the volunteer work you do, the way you run your business, the way you turned your messes into successes. The Message of You is a distillation of all of your experiences, both personal and professional, that form the narrative meaning of your life.
A meaning that you can develop into a well-written, funny speech to inspire audiences, enhance your current profession, and launch a successful money making career as a professional speaker. (Credit: Amazon)
Talk about instructive!
You might wonder why I'd pick this book in a list of motivational books for speakers, but all speeches and stories must start with why.
In studying the leaders who've had the greatest influence in the world, popular TED speaker, Simon Sinek discovered that they all think, act, and communicate in the exact same way-and it's the complete opposite of what everyone else does.
People like Martin Luther King Jr., Steve Jobs, and the Wright Brothers might have little in common, but they all started with why.
Drawing on a wide range of real-life stories, Sinek shares a clear vision of what it truly takes to lead and inspire people.
Simon Sinek is an optimist. He teaches leaders and organizations how to inspire people. From members of Congress to foreign ambassadors, from small businesses to corporations like Microsoft and 3M, from Hollywood to the Pentagon, he has presented his ideas about the power of why.
He is quoted frequently by national publications and is a regular contributor to The Huffington Post and BrandWeek. (Credit: Amazon)
Talk about powerful!
Author and professional speaker Scott Berkun offers hilarious anecdotes on the techniques behind what great public speakers do, and reveals how anyone can learn to use these techniques. This book is for anyone else who talks and wants people to listen.
Confessions of a Public Speaker provides a unique perspective on how to effectively present ideas to anyone and any group.
It's a unique, entertaining, and instructional ride through the embarrassments and triumphs Scott himself has experienced in his 15 years of speaking in front of crowds, both big and small.
With entertaining lessons and surprising confessions, you'll get new insights into the art of persuasion — as well as teaching, learning, and performance — directly from someone who has mastered the art of inspiring public speaking. (Credit: Amazon)
Talk about enjoyable!
Author Fletcher Dean is an award-winning writer of speeches and articles for a variety of business, educational and motivational speakers. He's a five-time presenter at the Annual Speechwriting Conference in Washington, D.C., a three-time recipient of the Award of Excellence for Speechwriting from the Public Relations Society of America and the winner of three Gold Medals from the Cicero Speechwriting Awards.
I think this more than qualifies him to write the definitive guide to writing great speeches that inspire people.
Steps to Vital Speechwriting is a quick guide through the skills that make speechwriting such a valued and lucrative communication specialty. The book teaches you how to analyze your audiences, target them with your message, research your speech, form your material into a compelling story, give it structure, write it with style, create visual aids, and the delivery process.
This manual contains insider tips, checklists and important truths. Every lesson in this book is illuminated by an inspiring and helpful example from speeches by presidents and prime ministers, CEOs and military generals, political provocateurs and church leaders. (Credit: Amazon)
Talk about educational!
So there you have it – 8 ways to find inspiration if you are looking to engage with people more fully, or become a public speaker yourself.
My daughter is entertaining me now. Maybe my next post will be about being entertaining like a toddler to engage with women as a motivational speaker! Ha!
Have a glorious week my lovely dreamers.
Sue