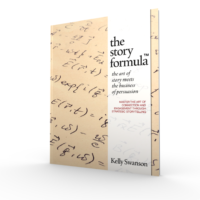 No Character, No Conflict, No Story
In my career of teaching public speakers and people in business how to use a story as a tool of impact, I see a common mistake.
People tell me stories that aren't really stories:
• A list of facts is not a story.
• Telling me how you got started in business is not a story.
• Telling me the history of your organization is not a story.
Those are facts.
Every story must have a character with a conflict; a pain they want to get rid of, or a desire they want to achieve.
If your speech, marketing materials, About Us page, and business doesn't have a clear main character with a problem that gets solved, you don't have a story.
End of lesson.
Kelly

Kelly Swanson is an award-winning storyteller, motivational speaker, published author and TV personality who is passionate about helping women harness the power of their stories to connect, influence, and get the results they dream of accomplishing. Laughing the whole way, Kelly teaches women how to master the art of connection through the power of strategic storytelling. You can find her on The Fashion Hero show airing Fall of 2017 on Amazon Prime.