Be a Guest Contributor on 8 Women Dream!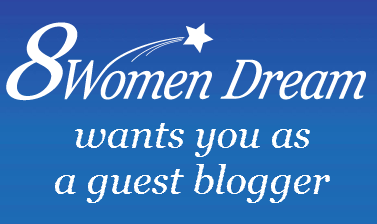 Last updated on [post_update]
Attention potential big dreamers with a story to share–
Thank you for your interest in publishing with 8 Women Dream.
8 Women Dream is open to guest dream big writers.
Do you believe that you have valuable information, tips or best practices that you would like to share with other dreamers?
Then maybe you have what it takes to be a guest writer on 8 Women Dream.
We are more than happy to share other successful dream stories here on 8 Women Dream.
There is far too much to say about dreaming big dreams and what it takes, to only leave it to us. We gladly welcome other perspectives, even dream perspectives from men. The content of 8 Women Dream guest articles should provide value to anyone attempting a big dream
We receive volumes of pitches for guest posts on 8 Women Dream — too many to track and respond to — so we thought it would be appropriate to have a set of predetermined guest post guidelines, so that dreamers interested in offering up a guest post (or two) can be referred to this page for more information on getting articles accepted for publication on 8 Women Dream.
Guest writing rules for dream contributors
• You need to be a blogger with your own blog, or a writer with a published book to write a guest post here on 8 Women Dream.
• We must be able to verify that you own your blog through WhoIs.com and the About page on your blog, or verify you through your book, or publisher.
• Your About page must have your picture and contact information, or your book must have the same.
• You must also have a verified author account with Google, or be verified by a book publisher.
• If you have how-to dream stories that you think will benefit our readers, you're welcome to share your story (or stories) through guest posting, however, you must already have a basic understanding on how to write for the Internet and how to make the most out of a guest post opportunity with 8 Women Dream.
• You will need a byline bio about you along with a 50×50 head-shot photograph (of you).
• No links out are allowed in the body of your story and any links will be added by the 8 Women Dream editor.
• You must use the word "dream" at least 3 times in your story.
• Titles are determined by the 8 Women Dream editorial staff, but you should submit your story with a title idea so we understand the direction you are trying to convey with your title.
Prior to submission, your story should be:
• Compelling unique content — not published elsewhere on the Internet.
• Written in English.
• A dream story that includes a "how-to" section for the reader.
• Include an image (or images) that you have the rights to publish.
Your story needs to cover a dream topic, like:
• A story related to dream success, dreaming big, overcoming obstacles, goal setting, persistence, dream how-to's, dream planning, dream travel, dream weight loss, product launch success, successful blogging, successful writing or publishing, photography, inspirational public speaking, frugal living, living an American dream, and other dream-related topics.
• Any story related to uplifting the role of women in the world.
We will not accept:
• A sales pitch of your web site or product (unless this is a product we've approved).
• Anything that is not suitable for a family audience.
• Less than 750 words.
• Plagiarized content or images.
• Content strictly for link baiting.
• Content from authors we cannot verify who they really are.
You must be willing to engage with the commenters on your posts for at least a time span of seven days after your story goes live.
Changes will be made to the content and format of all articles on 8 Women Dream to insure they are SEO friendly and easy to read on the Internet.
If you have a dream story that meets our guidelines, email your story to pr(at)8womendream.com. Publication of articles will be at the sole discretion of the 8 Women Dream editorial staff.
Due to the high volume of guest post requests 8 Women Dream receives, responses to messages following up on the status of a guest post submission may be delayed for a month, but will be responded to. If for any reason you do not hear from us after three weeks, we encourage you to email us again, as spam filters and busy lives can get in the way of a timely response. Persistence is the twin sister of excellence …
We look forward to hearing from you.
The most recent stories from past Guest Contributors:
[catlist id=2717 numberposts=8 excerpt=yes]